By: Benjamin Sawyer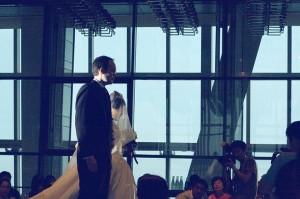 CC:image source
A wedding can be one of the most joyous occasions in your life. It can also be one of the most stressful times in your life if you do not have a plan to help keep you organized. The following tips can help turn a stressful event into a unique and memorable occasion you and all of your loved ones will treasure.
The First Steps
Aside from asking your intended to tie the knot with you, you will also want to choose people to be in your bridal party. The bride will usually choose a maid or matron of honor who will also be designated to throw her a bridal shower. The maid or matron of honor should use party themes and games that will engage all of the guests and also make the day memorable for the bride.
You and your intended will also want to create a list of items you would like to receive as gifts. To make it easier for your guests to purchase gifts for your wedding, you can register with any number of retail stores or even with online websites. You also want to select your invitations and send out save the date cards.
Choices, Choices and More Choices
Most of the stress associated with planning a wedding comes from trying to choose who to hire for the catering, music and hosting of the event. You should discuss where the wedding will be held, who will officiate over it and where you will have your reception. These will usually require reservations well in advance of the event so you need to make these decisions first. If you decide to hire a live band for your reception, you will want to book them in advance of the day as well.
The best way to decide on flowers, food and music is to attend a bridal fair. These events are designed to showcase the areas service companies for the purpose of planning a wedding. When choosing caterers, you want to look at the list of menu items they have available as well as what they charge per plate. Cake designers should provide a portfolio of their work which should have full color photos of the cakes they have created for other events.
The photographer you choose will make a lasting effect on the memories you have of your special day. A amateur photographer can save you money, but a professional one will capture you and your intended in photos you will treasure for a lifetime.
Making Magical Moments
One way you can create lasting memories for your guests is to provide them with useful gifts they can keep. Candles make the perfect wedding gift for guests because they come in assorted colors and sizes, which can be selected to match the colors used for the reception's theme. Candles can be used in combination with place cards to make the table settings more visually attractive. You can also try to put candles in sphere candle molds. That way it will be even more attractive.
More couples are choosing to incorporate a Unity candle into their special day. This single candle captures the bond created between you and your loved one when you exchange your vows. This special candle can be custom designed with the initials or names of the couple or with a phrase that has a special meaning to them. The Unity candle can be a lasting symbol of the love you have for each other.
Find your wedding professionals; wedding planner, caterer, and DJ by posting your project in BidsByPros.com
Stop searching! Start selecting!