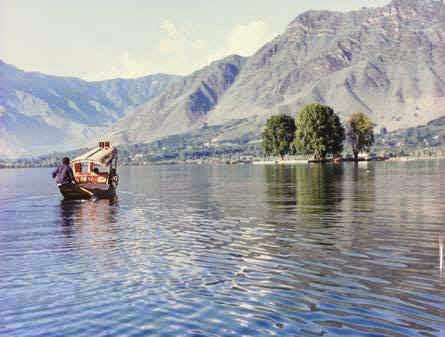 The valley of Kashmir is one of the best known tourist destinations
in the world and it owes it all to the blessings of Mother Nature. The valley also commonly known as "paradise on earth" is truly a work of art done by God. 
The gargantuan snow capped mountains in the backdrop reaching out for the clear blue skies, torrential rivers, blossoming gardens decorated with ancient Mughal architecture, coniferous and alpine forests, lush green meadows, pristine lakes, cave temples, monasteries, adventure sports etc makes Kashmir the best place to see natural beauty bloom in India. 
The beauty that Mother Nature has blessed it with is unmatched by any other place in the world. There are many places to visit in Kashmir and each one is beautiful than the other. Some of the most well known places to visit in this land of beauty are:-
The Shalimar Bagh- built in a traditionally Islamic fashion the Shalimar Bagh is one of the most iconic gardens of the Mughal period. The garden is said to be built where the cottage for king Pravarsena II was constructed when he used to go to visit Sukarma Swami who was a local saint. The garden with its erupting fountains, innovative irrigation system, wonderful terraces is a must see when in Kashmir.
Sankhacharya hills- the view of Srinagar that one gets after a climb of 240 steps is breathtaking. The scenic views that are seen from here will surely capture your heart. The beauty of the picturesque view is so great that it cannot be described in words.
Pari Mahal- once an observatory the Pari mahal is a horticultural work of art of the mughal era. The views that one can get from here of the vast plains, valleys and the flowing rivulet is truly amazing.
Ladhak- this is by far one of the most interesting places to visit in Kashmir. The rugged landscape dotted with magnificently carved and painted monasteries are its major attractions. The lakes that are found in this barren part of Kashmir are truly beautiful. One should make it a point to visit this place. 
Dal lake- A visit to Kashmir and not taking a cruise on the Dal Lake aboard a Shikara is a trip incomplete. The morning market that fills the lake with life is a sight to be seen. Various migratory birds also flock this place and is truly a sight to be seen.
In Kashmir tourist places of interest would also include the ski grounds of Gulmarg, Amarnath Yatra, Indira Gandhi tulip garden, Chashme Shahi, Nishat Garden etc. 
Take a trip to this piece of paradise on earth that we all lovingly call Kashmir and take away memories as beautiful as the valley itself.