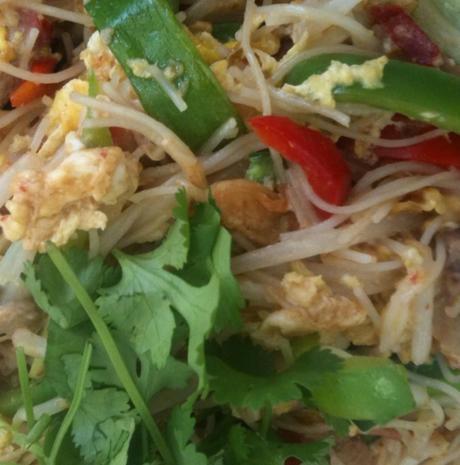 Bún Bò, Gà hoặc, Tôm Xào - beef, chicken or shrimp stir fried with onion and cilantro on vermicelli
When most people plan a trip to Orlando their focus is on the many theme parks in the area. But what sets my heart atwitter is Vietnamese food at Pho 88.  The restaurant is located in a former grocery store in the heart of Orlando's Little Vietnam, which is part of the ViMi district between Virginia Drive and Mills Avenue.
Pho 88 has a large dining room made bright by overhead lighting, mirrors and a wall of windows across the front. It is tidy and during regular meal times is a bustling place. The service staff is remarkably efficient as they wind their way through the densely populated room.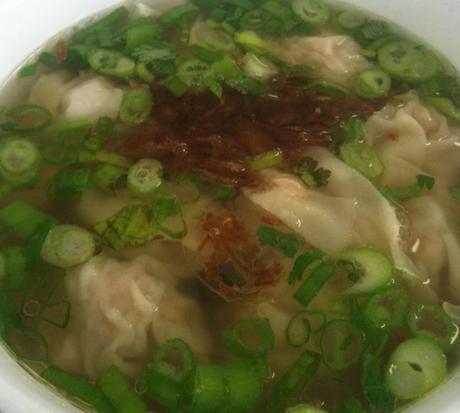 Hòanh Thánh
A first visit to Pho 88 should probably include pho, which is pronounced more like fun without the letter n, not foe or faux. The basis of pho is a savory beef noodle soup that is fragrant with clove and five spice.  To the base you can choose from a variety of proteins. Paper thin slices of eye of round are classic, and part of nearly all pho bo (beef pho) options at Pho 88. Raw slices of meat float atop the soup and gently cook from its heat. Other additions include brisket, tripe and springy beef meatballs. Each bowl of pho comes with a side plate filled with bean sprouts, basil and cilantro to add as you please.  It can be further customized with the hoisin, sriracha and fish sauces found on each table. Another excellent soup is the hoanh thanh soup of broth filled with plump shrimp and pork dumplings and sprinkled with green and fried onions.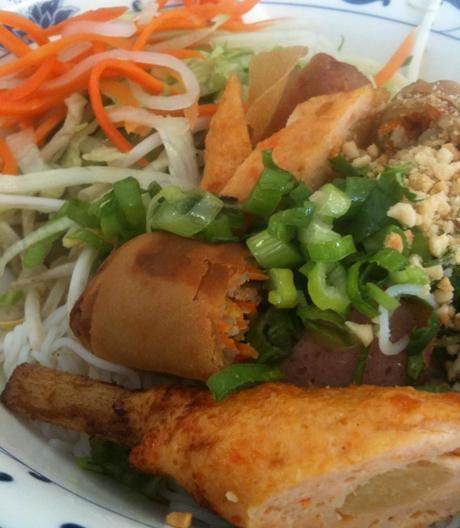 Bún Chạo Tôm Nem Nướng Chả Giò - Shrimp Paste, Charbroiled Pork Meatballs, and Egg Roll
A favorite dish at Pho 88 is the bun, vermicelli rice noodles. Bun is simple and fresh. A plateful of plain noodles is elevated by the addition of colorful vegetables and savory meats. Uncooked lettuce, bean sprouts, cucumbers, pickled carrots, peanuts and green onion add flavor and crunch. Particularly good is the bun topped with meatballs, egg rolls and shrimp paste wrapped around sugar can spears. The version with grilled pork and shrimp is also outstanding. Once again, make it your own by using the condiments on your table.
Pho 88′s menu is filled with great value, and one of the best is the banh mi sandwich ($2.50 – $4.50). Order one as a starter, or take some home to eat later. Buy five and get one free. There are 13 types of banh mi offered, including excellent sliced barbecued pork and fried egg versions. Banh mi are beautifully balanced layers of rich proteins and crisp vegetables that work to tame sliced hot peppers.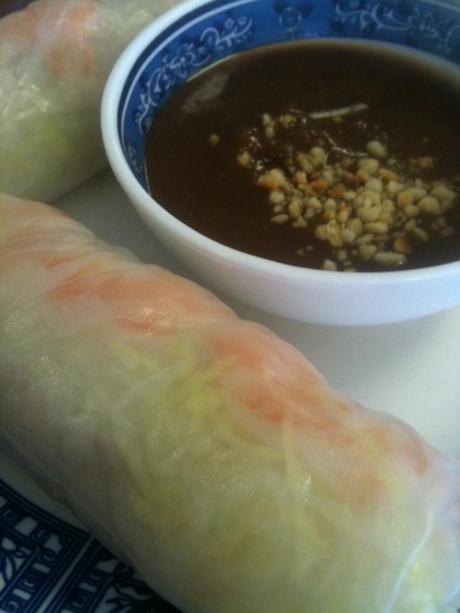 Gỏi Cuốn - Spring Rolls with Shrimp and Pork
For something to make you feel virtuous as you eat, try the fresh spring rolls. Transparent rice wrappers are filled with vermicelli noodles, fresh vegetables, shrimp and pork. Served with dipping sauce, they are simple and delicious.
Beverages include much more than coffee, tea and soft drinks. Salty lemon drink is lemonade Vietnamese style. Its tart saltiness really shines with the big flavor of Vietnamese food. Among the fruit shake flavors are exotic durian and rich avocado. Vietnamese coffee is bold whether served hot or cold, and best when sweetened with condensed milk.
A nice pot of jasmine tea is good to go along with a meal. And for after dinner try tapioca milk tea. A variety of fruit flavors are offered. Each drink consists of milky tea and pea-size bubbles of tapioca. They are served with a wide straw to accommodate the tapioca pearls. milk tea can be made into a slush, which is the best way to try it.
Pho 88 has a huge menu, and something for nearly everyone, whether you like mild or spicy, rich or light. And whether you are adventurous or timid, the knowledgeable and courteous staff will help you find your way through a menu filled with flavor.
Pho 88 is located at 730 N. Mills Avenue, Orlando, Florida. The phone number is 407-897-3488.
To read more of what and where I am eating and drinking, follow me on Twitter @colleensachs.