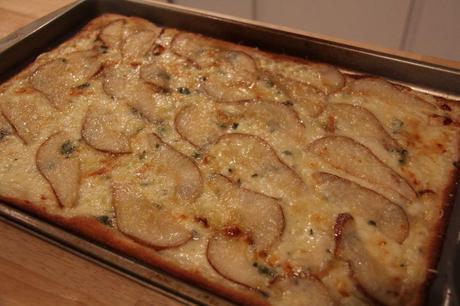 Happy Friday everyone!
Sorry for my lack of posting this week.  I have been out sick most of the week, and haven't felt much up to blogging (or anything else really.)  Been trying to work from home a bit, but mostly been watching endless episodes of Top Chef and Project Runway, and I'm finally caught up with my DVR.
I did make it into the office yesterday and for our 2nd week of our Race to the Oscars event.  I saw Zero Dark Thirty.  WOW.  Amazing.  Intense.  Well done Kathryn Bigelow.  If you haven't seen this film already, it's definitely a must see.
Anywho, back to pizza with pears!
While scouring through my recipe books for something new and interesting to cook, I came across a delicious looking recipe for pizza with pears.  I credit this original recipe to Maxine Clark from her book Pizza Calzone &  Focaccia.
Of course, due to time constraints and the inability to find all the ingredients in my local grocery store, I tweaked this recipe a bit–which is very typical of me anyway.
So here we have Pear, Pecorino, and Fontina Pizza with Honey and Sage
Ingredients:
Pizza Dough – original recipe has you making homemade dough, but I opted for a quicker, easier version and went with Pillsbury Pizza Crust (it's no NY pizza, but not bad!)
2 tbsps. extra virgin olive oil, plus some extra to drizzle
4 oz. Fontina cheese cubed (original recipe called for Tallegio, but could not find in my local store – this was a great substitute!)
1 very ripe pear, cored and thinly sliced
12-15 small sage leaves
1/2 cup freshly grated Pecorino Romano cheese
1 tbsp. of honey (or more depending on how sweet you would like)
sea salt and fresh ground pepper
Pre-heat the oven at 425 degrees F.  Open the pizza dough package and spread it thinly onto a pizza pan.  Pre-heat the dough according to directions on the Pillsbury package.
Rub the pizza crust with the olive oil and scatter over the Fontina.  Arrange the pears over this, then the sage and the pecorino.  Drizzle with honey, then season with salt and pepper.  Finally, drizzle on a little more olive oil.
Bake until the cheese is bubbling and the crust is golden.
Eat & Enjoy!