One might think the pizza can only be had as mains. But honestly after having this pizza hut Dessert Pizza after my healthy lunch ideas I was thinking otherwise this time. Now why should pizza be only had as main and not for dessert. This Dessert Pizza is just the thing you will be surprised by and can also surprise your guests with. Honestly it is easy to make and you`ll just be gob smacked once you have tried the home made version and has compared it to the Dessert Pizza you buy in pizza hut. Give this Dessert Pizza from healthy lunch ideas and share with us your thoughts.
Ingredients:
Pizza Crust:
1 cup warm (105F) water
2 cups flour
1-1/2 tablespoons vegetable oil
3/4 cup cake flour
1 teaspoon salt
1/4 teaspoon active dry yeast
Fruit Filling:
1 – 21 oz. can pie filling (cherry, blueberry, or apple)
Crumb Topping:
1/2 cup flour
1/2 cup brown sugar
1/2 cup quick oats
1/2 cup firm butter or margarine
1 teaspoon cinnamon
Vanilla Glaze:
2 cups powdered sugar
3 tablespoon Milk
1 tablespoon Melted margarine or butter
1 teaspoon vanilla
Directions:
Combine yeast and warm water and let proof for 3 minutes.
Add to other crust ingredients in a large bowl and knead for 10 minutes.
Cover with plastic wrap, and allow to rise for about 12 hours.
Preheat oven to 500F.
Roll the dough on a floured surface until it is about the diameter for your 16 inch pizza pan.
Place in pan and form the dough to the edge.
Brush with vegetable oil and prick with fork.
Pre-bake for 3 minutes.
Remove from the oven and spread with pie filling.
Mix crumb topping ingredients with a fork or pastry blender.
Spoon over pie filling. Return pizza to the oven and continue to bake for 10-15 minutes or until crust is light golden brown.
Remove and drizzle with vanilla glaze
Enjoy!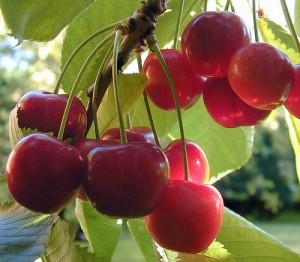 Photo by: D H Wright