I read somewhere recently that one of the food trends for 2014 could be the single dish restaurant, places that specialise in only one or very few dishes. From the sounds of it's name Pizza e Porchetta seems to be heading in that direction but a glimpse at their menu reveals that they, thankfully, have a few other items on offer. There are plans to expand the menu slightly including having a number of daily specials.
I'm not sure why I'm so against the concept of single dish restaurants, maybe I'm just never 100% certain about what I want to eat before I walk into a place. They say variety is the spice of life after all!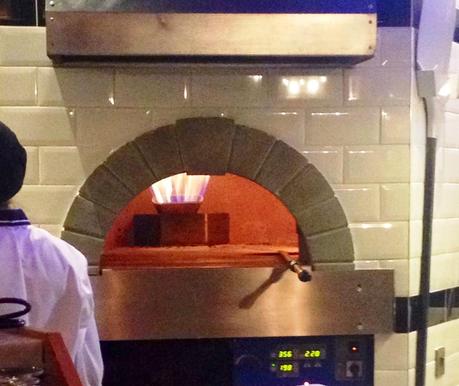 When you arrive in Pizza e Porchetta the greeting is warm, in more ways than one! 
Anyway back to business. Pizza e Porchetta occupy the railway arch formerly known as The Bridge Bar and Grill. It's been completely renovated, well, as much as you can renovate an arch! There's a new beige false ceiling that gives the place a brighter, more airy feel. When you walk in you are greeted by two things, a blaring fire in the pizza oven and a wonderfully warm welcome. The pleasantness of the staff was a feature throughout our visit and perhaps one of the best things about the place.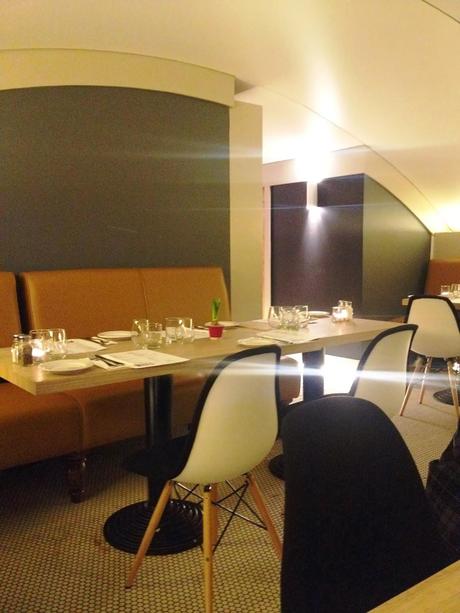 The bright new interior, not the new ceiling! 
The menu reveals a number of starters including chargrilled squid (€8) bruschetta (€6) as well as an antipasti plate (€7/€14) We knew we were both going to have pizza so opted to share a starter to avoid filling up.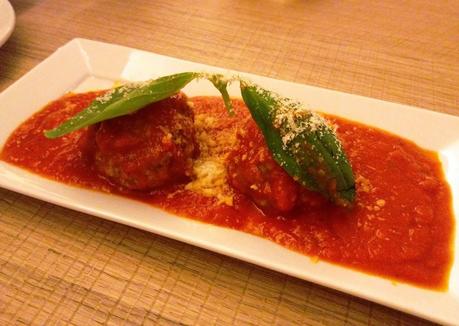 Meatballs to start, two is just right, four a bit much? 
We finally decided on the meatballs and when they arrived the waiter told us he asked for it to be put on two separate plates for us. I suspect we really got two portions, who could eat four big meatballs as a starter? The meat was a mixture of beef and pork (I think!) and was particularly tender. The sauce was nice and tangy. I was glad to have two all to myself!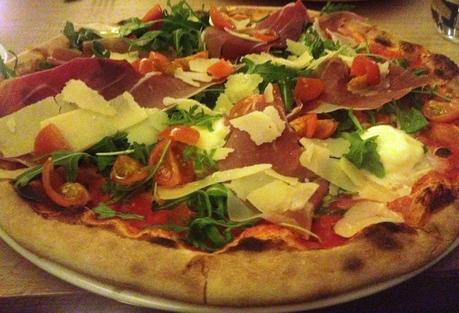 Delicious Pizza di Parma 
In the interests of a proper review perhaps I should have tried the porchetta and let himself have the pizza but when I read the menu and seen the Pizza di Parma I knew I had to have that! The pizza base was super thin, which I love, and topped with a layer of tomato sauce and some mini mozzarella balls. Just before serving some Parma ham, rocket and parmesan were added. It's such a perfect flavor combination and this one was executed almost perfectly. I say "almost" because the mozzarella was a teeny bit watery and leaked under my pizza leaving some of the base a bit soggy, not a big deal but a distraction nonetheless. To be honest I think the mozzarella could be omitted altogether without any detriment!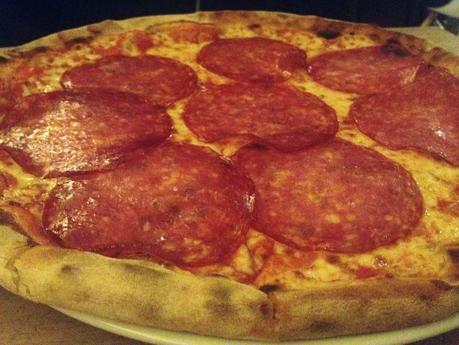 Salami Pizza 
Himself went down a less fussy route than me opting for a margarita pizza with some salami. Simple but powerful flavours. It really was delicious and he managed to finish the whole thing.
Throughout the meal our wine and water glasses were never empty and two espresso were brought promptly when ordered. Pizza e Porchetta have gotten the service just bang on here, waiting times between courses were just right, we felt relaxed and unrushed but when we asked for the bill we weren't left hanging around. Just right!
I'll definitely be back, to try the porchetta of course and to check out what new goodies are on the menu!
Pizza e Porchetta
The Malting Tower
Grand Canal Quay
Dublin 2
01 662 4198
Website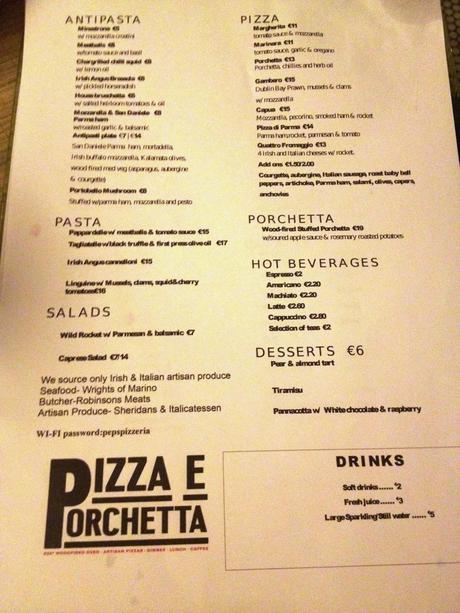 Last time I checked the menu wasn't online so here's a pic of what we had to choose from when we were there.