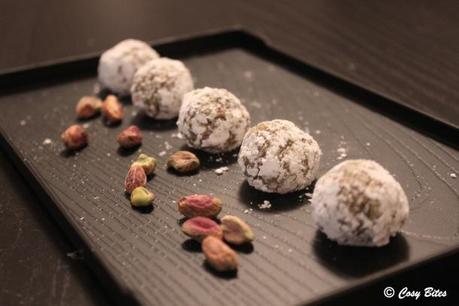 I happened to have 2 big bags of pistachios with me. I was looking for pistachio cookies recipes online and saw this biscotti al pistacchio recipe. I tried out the recipe and the cookies turned out amazing. I brought some of these cookies to my cake decorating class last week for my course mates and everyone came to me for the recipe after. In the spirit of sharing, I'm also posting the recipe here.
I used lesser amount of sugar than what the recipe calls for, made them smaller so you can easily pop one in your mouth and baked them twice instead, for that extra crisp exterior. These cookies look so much like snowballs to me so I decided to call them pistachio snowball cookies. They do have a Christmas-y feel and for those who are baking a storm in the kitchen for Christmas, you might want to consider making these.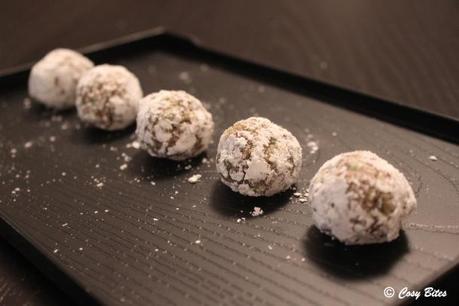 Here's the recipe for pistachio snowball cookies, adapted from here. Enjoy!
PISTACHIO SNOWBALL COOKIES
Makes about 80 bite-sized cookies
Ingredients:
500 gram pistachios (raw or with shells removed)

180 gram granulated white sugar

1 tablespoon honey (I used Acacia honey)

1 teaspoon vanilla extract
1½ tablespoon freshly grated lemon zest

Egg whites from 3 large eggs

120 gram confectioners/icing sugar, for coating cookies
Method:
Preheat oven to 180°C.

Place the pistachios with half of the granulated white sugar in a food processor and pulse until the nuts are finely chopped but with some chunky bits.

Combine the ground pistachio-sugar mixture with the honey, vanilla extract, and lemon zest in a large mixing bowl. I just use a tablespoon to do the job.
Slowly add in egg whites, mixing until the dough is well combined and soft. Add the other half of the granulated sugar and mix well.
Take 1 teaspoon of the dough and form it into a small ball between slightly damp hands. Repeat until you have finished all the dough.
Roll the balls in the confectioners/icing sugar to coat well. Transfer the balls to cookies sheets lined with parchment paper, leaving at least an inch between each cookie.
Bake the cookies for 8-10 minutes, until the edges of each cookie are golden. Remove the cookies and leave to cool. Once the cookies are cooled, bake them again for another 8-10 minutes.
These cookies can be stores in a sealed container for up to 2 weeks.