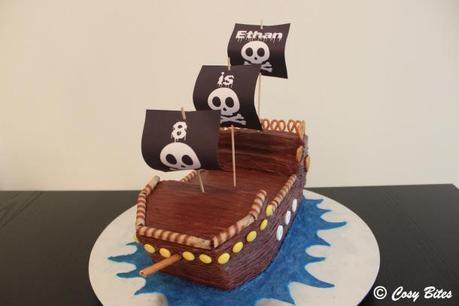 Today is my son's 8th birthday. He asked me to make him a birthday cake and gave me 3 conditions to fulfill.
I have to make him a pirate ship cake.
The cake has to be chocolate.
All his classmates must go "Wow! It's a very nice cake!" when they see it.
A chocolate cake is easy. A pirate ship cake that can feed 25 people is challenging. The third condition was what got me nervous since I have not made any decorated cake since the Wedding Dress Cake, not to mention one this big. I googled for ideas, made a rough sketch of the pirate ship and calculated the size of the cake(s) I need to bake.
For the cake, I went with the Hershey's Perfectly Chocolate Cake since I'm always using Hershey's unsweetened cocoa powder. I adjusted the amount of the ingredients to make two 9×13-inch cakes.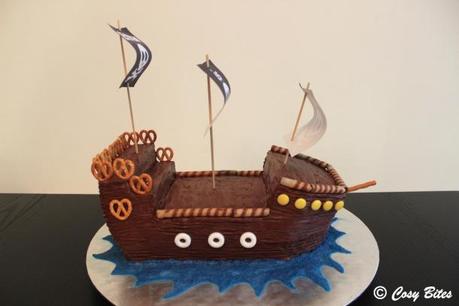 HERSHEY'S PERFECTLY CHOCOLATE CAKE

Ingredients:
800 gram granulated sugar (I reduced this to 600 gram but still find it too sweet)
440 gram all-purpose flour
170 gram Hershey's unsweetened cocoa powder
3 teaspoon baking powder
3 teaspoon baking soda
2 teaspoon salt
4 eggs
490 ml milk
227 ml vegetable oil (I used corn oil)
4 teaspoon vanilla extract
475 ml boiling water
Method:
Heat oven to 350°F (180°C). Grease and flour two 9×13-inch baking pans.
Sift flour, cocoa, baking powder, baking soda and salt in the bowl of your mixer. Stir in sugar. Add eggs, milk, oil and vanilla extract and beat on medium speed of mixer for 2 minutes. Stir in boiling water (batter will be thin). Pour batter into prepared pans.
Bake 35 to 40 minutes or until a toothpick inserted in center comes out clean. Cool the cakes for 10 minutes in the pans before removing them to cool completely on wire racks.
Once the cakes are cooled, I put them in the fridge for a couple of hours to make it easier to carve the cakes.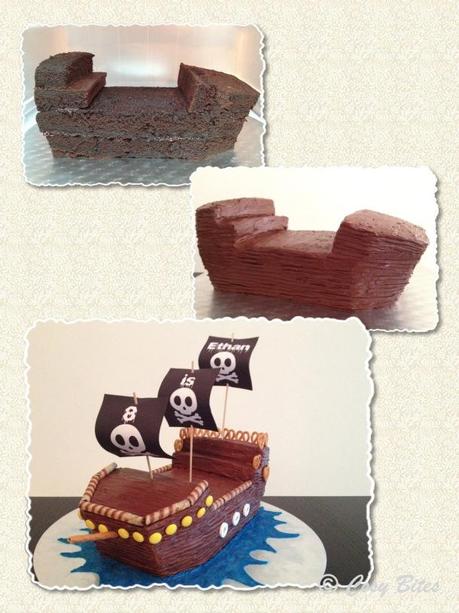 I cut 2 rectangular pieces measuring 6×13-inch, put them one on top of the other and cut smaller pieces to stack on top. In between layers, I spread strawberry preserve to balance out the chocolate-y taste. I then carved the cake to make the shape of the ship. The back of the ship proved to be too heavy so I inserted a tiny piece of cake below to prevent it from sinking. I covered the cake with chocolate frosting (again with Hershey's).
CHOCOLATE FROSTING
Ingredients:
170 gram butter
113 gram Hershey's unsweetened cocoa powder
500 gram icing sugar
125 ml milk
1½ teaspoon vanilla extract
Method:
Melt butter over simmering water. Transfer melted butter into the bowl of your mixer and stir in cocoa powder. Beat till well mixed.
Add icing sugar and milk alternately, in 3 to 4 additions. Add vanilla extract and continue beating until frosting is of spreading consistency. Add more milk (in small amount), if needed.
I ran a fork round the cake to create the wood-like texture and decorated the cake with pretzels, polo sweets, M&Ms and chocolate wafers. Much easier and faster than modeling everything with sugar paste! I smeared blue icing around for the sea and brushed pearl dust over it. Separately, I prepared chocolate gold coins to give out as treasures.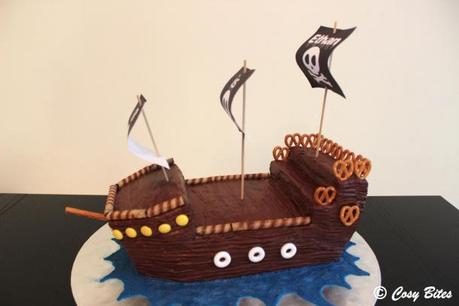 I got lots of "ooohs" and "wahs" from the kids today and questions like "Did you make it?", followed by "How did you make it?". From the responses and some kids asking for second serving, I think I've got all 3 conditions fulfilled.