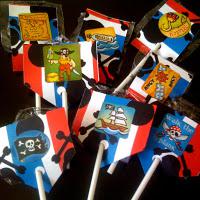 It's no secret that children tend to be contrary... when Happy Husband was singing 'you are my sunshine' yesterday, Mimi, aged almost-four, said; "why don't you ever call me moonlight?"  It's a valid question, especially since the song still holds up rhythmically... and now I can't get the tune out of my head!
About ten minutes before she went to preschool this morning she announced that she'd like to play tug-a-war at her party this weekend.  I told her it was a great idea, and I'm happily imagining her Daddy (who has agreed to dress up as a pirate) with 8 little pirate boys on one end of the rope, and me (who will be a sort-of mermaid with candy pink wig but no bikini top) on the other end with 23 little mermaid girls.  I suspect Daddy's team is still going to win!
For another game, I found a bag of twenty 'ocean-animal' bath toys on special at the supermarket, so we're going to use those for
a sea-creature treasure hunt in the garden
if weather permits.  The single rule which Mimi and I devised is this;  you find a toy and you get a lollipop.  Simple, and effective, because it means once children have found a treasure they'll get busy eating and leave the other (usually younger) children to find their own treasure uninterrupted.
To make the
mermaid and pirate party lollipops
, we'll give out as prizes, we;
bought small cheap and cheerful individually wrapped lollipops, 
printed out mermaid and pirate bag tags, 
cut them in half and punched a hole at the base of each one, 
threaded them onto the lollipop stick (keeping the ingredients side of the candy wrapper visible for parents who need to check allergy warnings),
adhered them in place with a piece of double sided tape,
and then stuck on a dollar-store sticker.
Phew - sounds a mouthful but we turned out 30 of them pretty quick smart... come on weekend; I think I'm getting more excited than Mimi!!