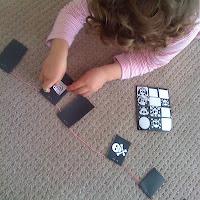 It's no secret that the Jolly Roger flag, with it's skull and crossed bones beneath, is a motif that screams 'pirates!'  If you're holding a pirate party, or a sailor, mermaid, or fairytale themed party for that matter, then a little black pirate bunting is a sure fire way to add an element of danger to your do.
In the pirate party ebook and craft activity book I made, you'll see there are flags ready to go, all you have to do is print them out, cut them out, then stick them onto a piece of red string, jute-twine or black ribbon, remembering that even the wool or other material you choose for this decoration should suit the party theme.
To save on toner, and a little time, you can take a shortcut and simply use rectangles of black paper in between the pirate printuots.  For Mimi's party last year, we used one flag, then three pieces of black paper, another flag, three papers, and so on.  On the middle of the three blank paper flags, Mimi stuck a pirate sticker.  In this way, the bunting alternated; plain, printed, plain, sticker, plain, printed, etc.
The flags were stapled in place on the red string, so they wouldn't blow off with the wind or her enthusiastic sticking, and because it was quicker than glue or double-sided tape, and lastly, as I decided the 'industrial' look of the exposed staples seemed more appropriate than concealed fixing.
Getting toddlers and preschoolers involved in party preparations is often a difficult task; but this was one activity that she happily helped with and the results were great; she very proudly showed off her handiwork to her friends at the party, and they all loved watching them sway in the breeze.
If you're trying to chose some decorations for your next party, then paper bunting is a quick way to create interest.  Go on - have a go; try the triangular paper pennants in the free printpaper package, cut some out of wrapping paper or sew up some super special ones.