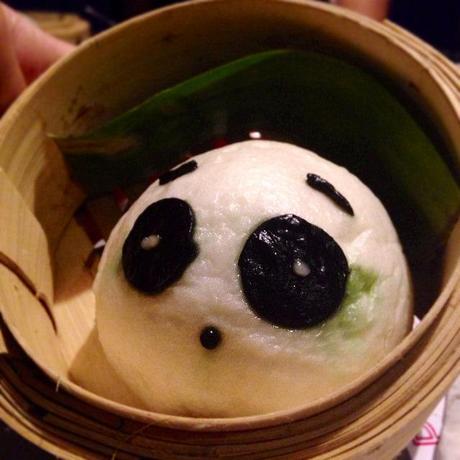 Poor little guy.
This great new place is a new project of the Hatch 22 group, which is why we didn't think twice before accepting an invitation to come over and check out the food. It's edgy and creative like Hatch 22, but this time focused on South East Asian cuisine, which is both exotic and new, but also comfortably close to the food we're used to. Here's what the food was like: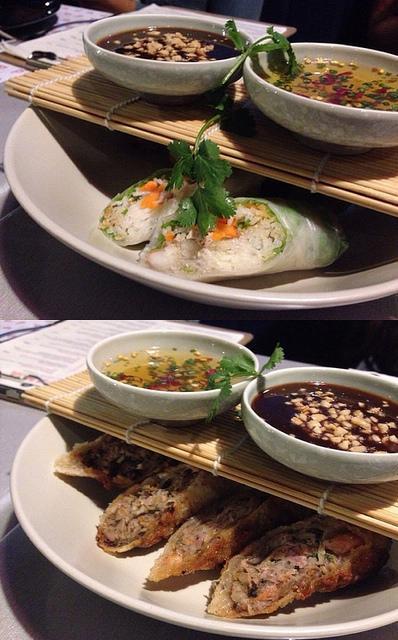 VC Spring Rolls, P240.00
Rice wrapper/trio of mushrooms/spiced pork grilled shrimp/pickled jicama.
I don't really know what VC stands for but we started the long and fun dinner with this for an appetizer. This half-fresh, half-fried treat might just be Pink Panda's interpretation of the yin and yang in life. That, or they just like giving choices. Haha. I can't quite decide which I liked better, but they were both good. They even had matching vinegar and peanut sauce for whatever you choose. Next thing we had was the biggest Xiao Long Bao you've ever seen.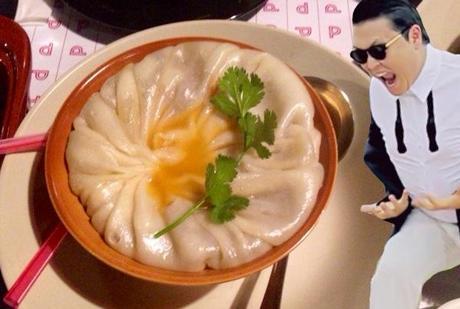 Xiao Lang Boom, P230.00
Pork and Shrimp Dumpling/Mushroom Vegetable Broth/Ginger Chinese Vinegar
I edited PSY into this picture (and I ask myself if it was worth the effort haha) to visualize how I felt to see this interestingly gigantic dumpling served to us. While the inside was more of a soup than the gigantic meatball I imagined it to be, it was really good. I helped myself to several servings of the delicate dimsum wrapper and the rich, flavorful broth that almost brought ramen broth to mind. Large skinless shrimp inside. Yum!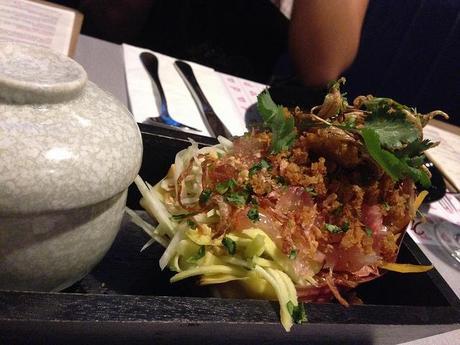 Mango and Papaya Catfish, P360.00
Trio of Mangoes/Green PapayaShredded CatfishGolden Shallots/Chili Lime Dressing
This was one tasty salad! I can't really say that I love green mango but something about how it's mixed with the pomelo here and how it all tastes sweet, tangy and spicy made me really appreciate this dish. I had three helpings of this addictive treat.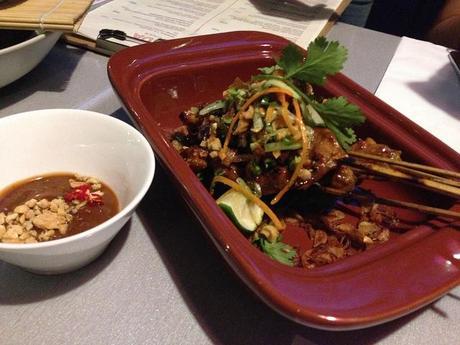 Puncak Chicken Sate, P340.00
Chargrilled chicken skewers/roasted peanut saucefried shallots/pickled vegetables
I love Indonesian food, and while we were told Pink Panda does not have the recipes as they authentically should be, this came pretty close to the
Sate Ayam
 I know and love from Indonesia, except for the added vegetables. I was fortunate to have been assigned to Indonesia for work a couple of times before, and I constantly miss their food. Haha. Delicious stuff.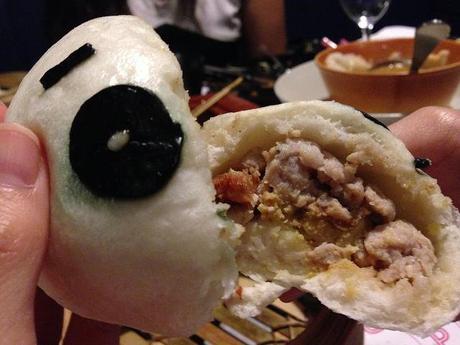 Panda Buns, P210.00 (two pieces)
Steamed Pork Buns/Mushrooms/Salted Egg/Siracha Hoisin
Poor panda! After much hesitation to break open the cute, sad, little panda faces, we got to try what the pandas were really made of. I didn't get to taste the
sriracha
, but I enjoyed the bun. How can you not enjoy any siopao that has salted egg and mushrooms? This bun is more than just a pretty face.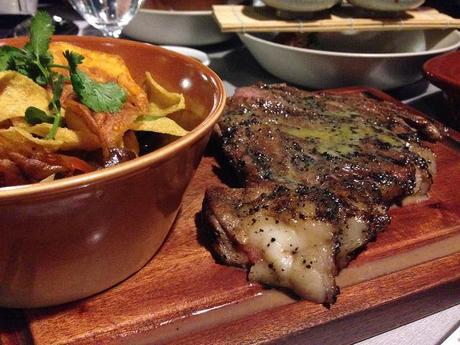 Vietnamese Coffee Steak, P1300.00
10 oz Certified Angus Rib Eye Steak/Condensed Coffee Rub/Vegetable & Mushroom Stir Fry
Tender meaty goodness. I was expecting it to be bitter, but it was actually peppery sweet, quite similar to pork barbecue. The meat was very soft, and the vegetables (mostly camote) went well with it. Great if you want your steak fix with a cool Vietnamese twist. Not that I know anything about Vietnamese coffee. Haha.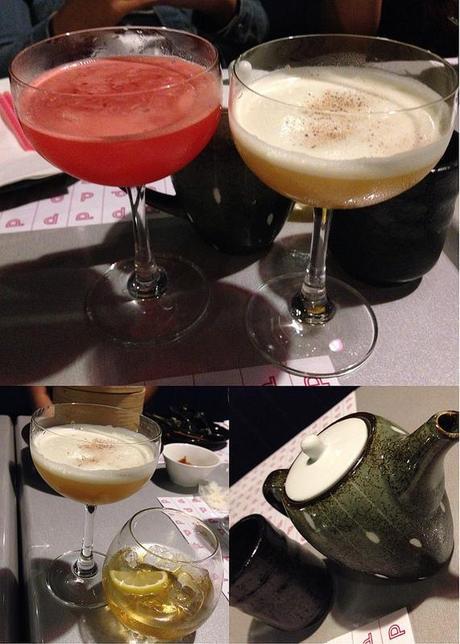 Cocktails
Upper right: Sloth Fizz, P280.00. Gin, Fernet Bianca, Orgeat, Egg White, YuzuLower left: Old Styling, P250.00. Whisky, Angostura Bitters, Sweet Vermouth, Coinreau Wash, Agave SyrupLower right: Fangs & Bangs, P290.00. Bourbon, Cointreau, Apple Tincture, Bitters, Yuzu
I enjoyed the drinks almost as much as the food. I got to taste 'em all, and though I forgot the name of the deliciously sour and spicy red drink up there, my favorite was the Old Styling. They were all sufficiently strong yet went down very smooth, and the Old Styling most of all so. Perfect for long chats about fun stuff.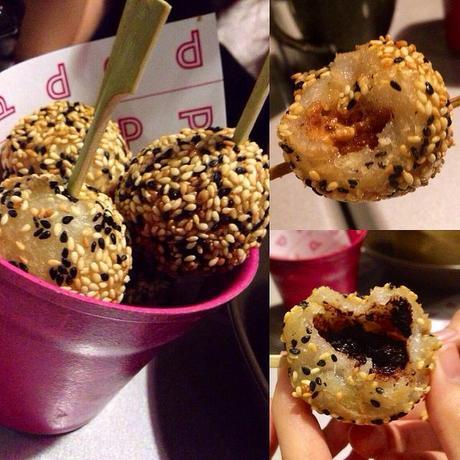 Panda's Balls, P220.00 (5 pieces)
Black and White Sesame coated Buchi with Black Bean, Peanut Butter & Jelly, and Dark Chocolate
Whoa, I didn't know these things were called this! Not the most appetizing name. Haha. What I enjoyed about this is there are three different fillings with no marking, so *Forrest Gump voice* you never know what you're gonna get. I was able to try the two more unique flavors, and they were both quite good! Dark chocolate was my favorite.
Menu:
Greens, Broths, Starch, Sandwiches, Desserts
Small Sharing Plates
Non Alcoholic..ish, Cocktails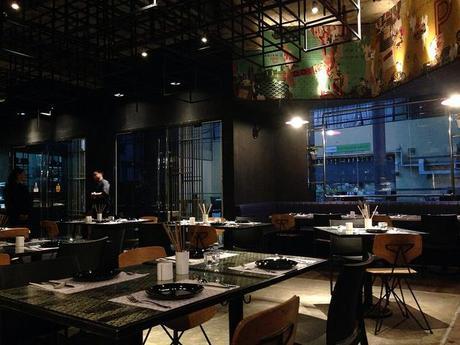 The interior is really nice and apparently jeepney-inspired, to give that out-on-the-streets feel. I personally think the place is way too clean for me to make that connection on my own, but it still looks great. Haha.
Time flew during this great dinner with great company. Thanks, Monique, for having us, and Anj and Jhanz as well, from When In Manila, for the fun, borderline geeky conversations that were genuinely enjoyable. I have got to come back and try all the Indonesian food they have here. Quite a lot to choose from! Whenever you're in the area and are looking for a South East Asian culinary adventure, or just a cool place to hang out, drop by Pink Panda!
Love Pink Panda? Hate it? Let me know by commenting below, or just tweet me!

PINK PANDA SOUTHEAST ASIAN DINER
G/F Y2 Residence Hotel,
4687 Santiago St. corner B. Valdez & Singian Sts., Makati City
(0906) 205-3898 / (02) 224-3000 loc. 3057
Operating Hours:
11:00 am - 12:00 mn
Facebook:
 Pink Panda Southeast Asian Diner
Twitter:
@PinkPandaManila
View Larger Map