We're happily no strangers to the wonder that is Pink Panda, and we visited once more to try some of the newer dishes. Truth be told, I'd want to keep coming back for every dish, because I have not encountered anything here that I did not really like.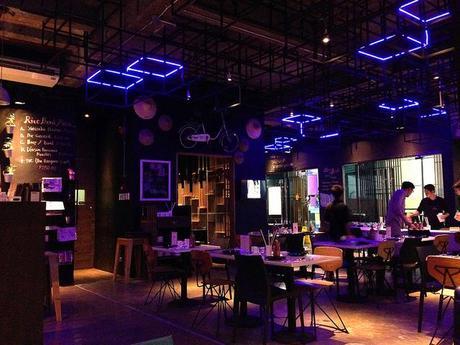 Just like the food they serve, the area is equal parts stylish and homey. I love those lights. How can I get those in my bedroom? Haha.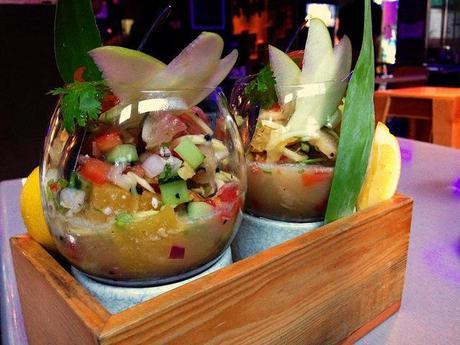 Seafood Ceviche, P365.00
Swordfish/Shrimps/Squid/Citrus Dressing/Peppers/Red Onions/Cilantro
We were started on a heavy serving of a light dish. The ceviche (seeBEEtcheh), or you might want to call it fancy kilawin, tasted as colorful as it looks. Even if other dishes were already served, I couldn't just drop my bowl until every last citrusy morsel was gone. The seafood was great. The fish was creamy, the squid chewy, and the shrimps skinless. A bonus would be that this dish tastes very healthy too. All tasty, sourish meat and greens here.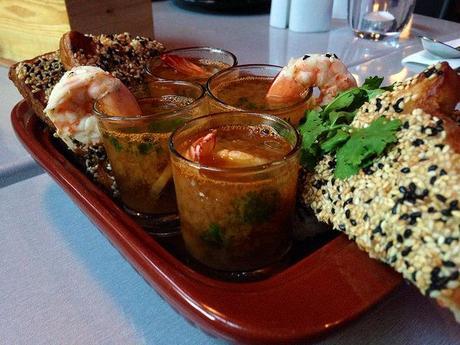 Prawn Toasties and Tom Yum Shots, P320.00
Shrimp Toast Canapes/Red Curry Shrimp Paste/Sour Prawn and Mushroom Broth (Spicy)
This did not seem to be such a filling dish to begin with when I saw those four shotglasses, but the discreet heroes of this group are the buchi-buchi-skinned slices of bread on the sides. They were delicately flavored and had shrimp meat under the sesame seeds. They were a perfect contrast to the shots of intense sour-spicy flavor they were served with. And again, who wouldn't enjoy skinless shrimp! You can tell I'm a lazy shrimp-eater.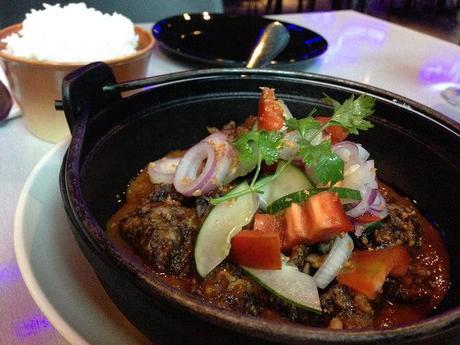 Crispy Beef Rendang (plain rice not included), P430.00
Caramelized Beef Curry/Golden Shallots/Lemongrass/Cucumber Acar
We were warmly welcomed to the restaurant by Chef Miggy who we had a nice chat with. He talked about Pink Panda's new offerings and selected what we ate there that day. His personal favorite is the Crispy Beef Rendang, which I also had been looking forward to try, having tried the original dish in Indonesia when I worked there a few years back. The Rendang was rich as expected, but as opposed to the original, the beef is very, very crispy. I'm not sure I like it as much as the tender meat of the original dish, but the crispiness was indeed enjoyable, and a nice twist. Chef Miggy was right when he said it's impossible to eat this without some nice plain rice on the side.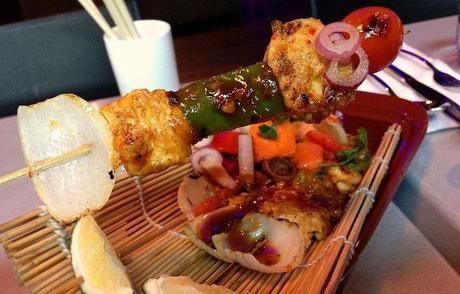 Shrimp and Tanigue Sambal Kebabs, P525.00
Shrimp/Tanigue/Peppers/Onions/Cherry Tomato/Sambal
Due to the success of the Chicken Sate, Pink Panda thought of adding another similar skewered treat, more focused on seafood. The tangy flavorful fish and veggies of these sticks were also very delectable. I'm more of a sate guy, but I'd enjoy this any day. Also goes well with rice!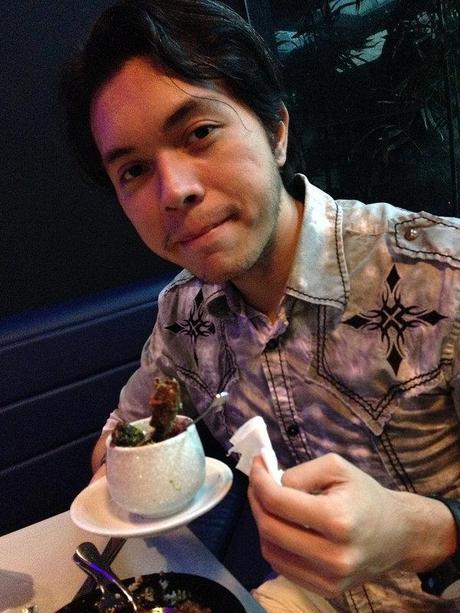 We ended the meal with a tiny piece of dessert.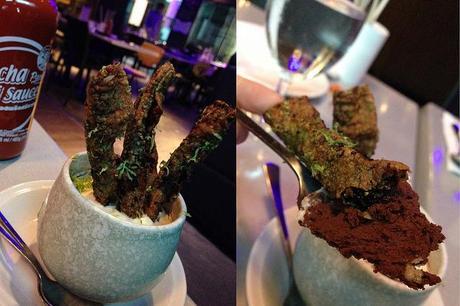 Sriracha Mousse, P225.00
Dark Chocolate Chili Mousse/Chocolate Crust/Lemon Grass Cream
Tiny, yet far from light, this tarty, sweet, decadent, strangely delicious, mousse was very fun to eat. The sriracha did not translate to much spice but it did give a tangy touch to the dessert. Creamy mousse topped with what looks like delicious chocolate tree branches made for a fun and exciting end to our indulgent meal.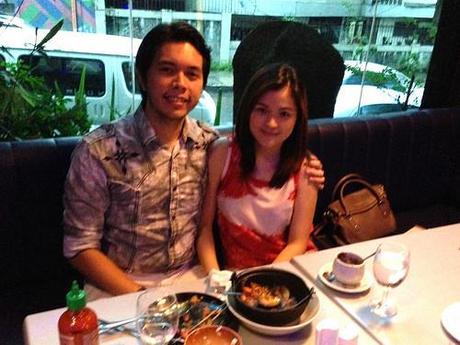 There you have it, the comforting zing that is the awesome selection of food of Pink Panda. Be sure to drop by and try out their many dishes across many cuisines and you won't be disappointed. :)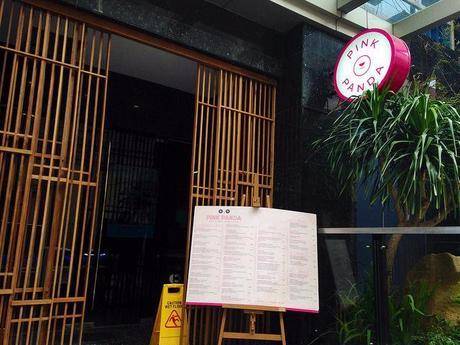 Menu:
Small Sharing Plates
Greens, Broths, Starch, Sandwiches, Desserts
Express Lunch

Our First Visit:
Pink Panda South East Asian Diner
Our recent visit to Hatch 22:
Heart New Dishes at the Hatch 22
PINK PANDA SOUTHEAST ASIAN DINER
G/F Y2 Residence Hotel,
4687 Santiago St. corner B. Valdez & Singian Sts., Makati City
(0906) 205-3898 / (02) 224-3000 loc. 3057
Operating Hours:
11:00 am - 12:00 mn
Facebook:
 Pink Panda Southeast Asian Diner
Twitter:
@PinkPandaManila
View Larger Map