I enjoy dining in Erwan Heussaff's restaurants, distant as some of them may be from my work and residence. I was very happy to hear of Crisp on the 28th which is now conveniently located in the Fort.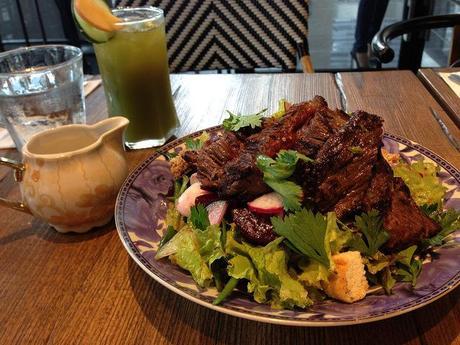 Courtyard Salad, P280.00
add 150g grilled hanger steak, P275.00
Mixed salad greens / cucumber / French beans / walnuts / broccoli / roasted beets / quail egg / herbed croutons / country dressing
Upon hearing the word Crisp, I actually thought this place's specialty would be pork-themed deep-fried food. I could not have been more wrong. I should have known it would be much better than that, considering the people behind this place. Crisp here refers more to the crispness of their food, speaking to how healthy and fresh their offerings are. Case in point, this salad was the first thing we were given.
I can't say I'm much of a salad-lover (apart from health reasons), but I can totally enjoy any salad that is decorated with walnuts and broccoli, not to mention, steak!!! This beauty of a dish is a pleasure both to your taste and your body.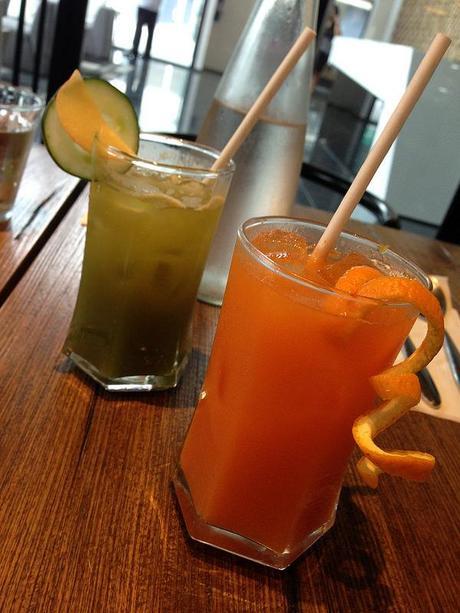 Cucumber, Apple & Mint Cold Pressed Juice, P155.00
Orange & Carrot Cold Pressed Juice, P155.00
They also serve cold pressed juices among other drinks. I much preferred the Cucumber, Apple & Mint one only because it tasted much more interesting.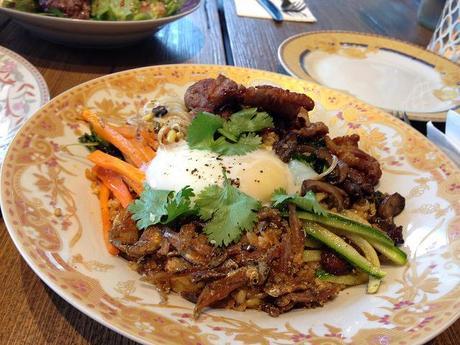 MMMBOP, P390.00
sliced pork / carrots / spinach / mushroom / kimchi brown rice / bean sprouts
Not prepared by the Hanson trio, but more of a reference to the Korean bibimbap. I can't say I'm too familiar with this dish in general, but I really enjoyed it. Keeping with the healthy theme, the rice
was
brown and the veggie-laced ensemble was quite delicious.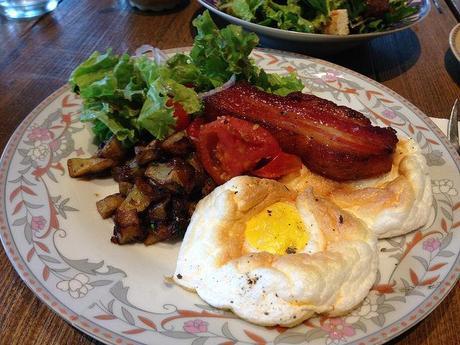 Bacon and Eggs, P290.00
(will take 15 mins to make)Sunny side souffle / slab of smoke bacon / onion and potato hash / mixed salad greens / grilled honey lemon dressing
We can't
always
 be healthy now can we? How about cheating with just one piece of bacon? An
extremely
large one! It tastes as good as it looks, with a bit of a
ham
 quality to it. The souffled eggs were a treat to eat as well with their interesting texture.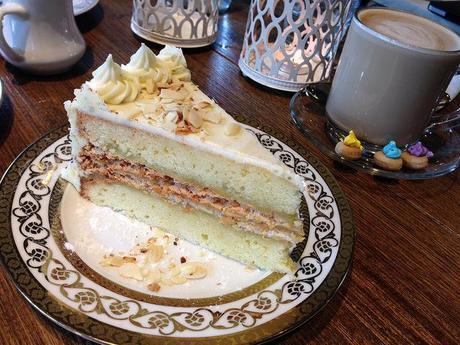 Crisp Cake, P160.00
Our signature cake: Calamansi Cakeperfect combination of tart and sweetness. Layers of Calamansi Sponge Cake, Calamansi Curd and Almond Meringue
A cake which carries the name of the restaurant is surely good, right? In this case, it was. The calamansi cake reminded me of those famous calamansi cupcakes from Boracay. It ain't too sweet and tastes just right.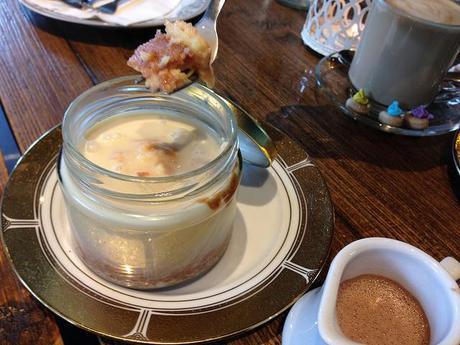 Tres Leches Rum Cake, P150.00
Sponge cake with a small dose of rum, soaked in a 3-milk sauce overnight. Tres Leches is served warm with a hot shot of chocolate milk.
I'm usually a fan of Tres Leches (at home, mostly) so I wanted to give this version a shot. The rumcakeyness was much more prominent, with the tres leches aspect of it being more evident in the texture and the milk sauce. Not bad at all!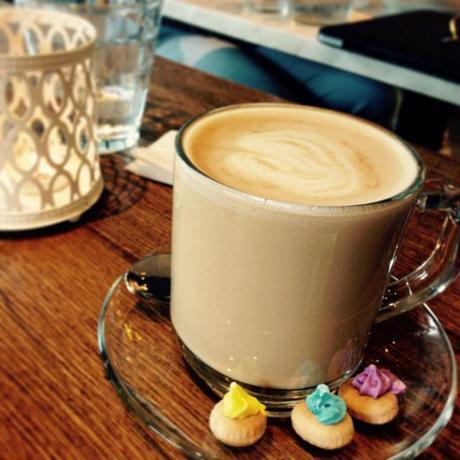 Cafe Latte, P110.00
This is a fine place to grab coffee as well. Their latte was good, and fairly priced.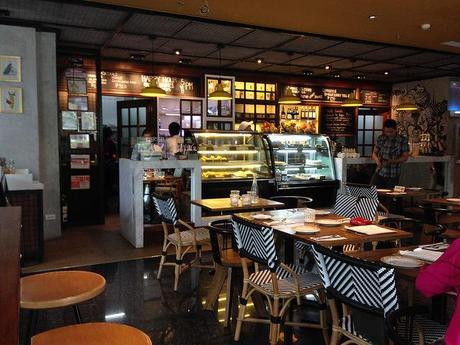 Sight. Smell. Taste. These all come together quite nicely in the experience of Crisp. It's not just good food. It's refreshing to take in the art that tastefully clothes the place. The wall murals are partly done by Solenn Heussaff too.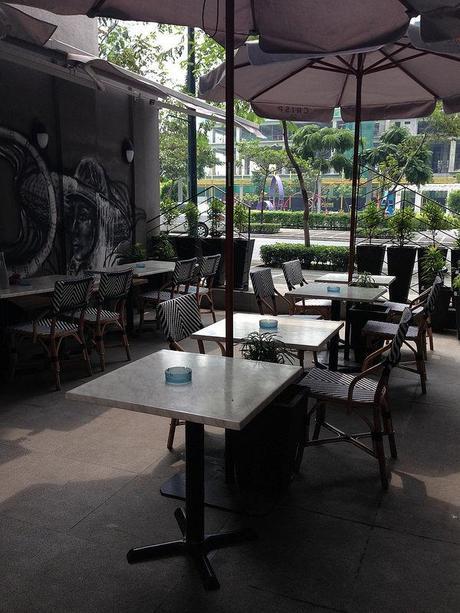 Slightly hidden to the side is this neat
al fresco
section where you can enjoy the BGC breeze.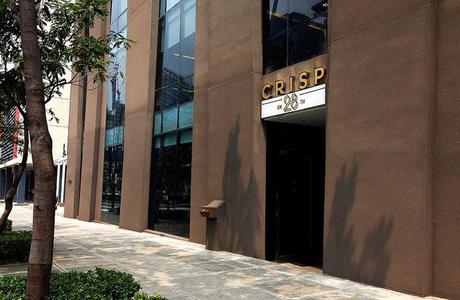 Menu:
Early Start, Open Toast
Salads, Sandwiches, Entrees
Specials
Beverages
Dessert
Glad to have an addition to the already large number of good dining and hangout options around the Fort. Check 'em out!
Love Crisp on 28th? Hate it? Let me know by commenting below, or just
tweet
me!

CRISP ON 28TH
G/F, Alveo Corporate Center, 28th Street Near 9th Avenue,
Bonifacio Global City, Taguig City
(0917) 584 6883
Operating Hours:
8:00 am - 12:00 mn
Facebook: Crisp on 28th