pink cheesecake recipe - no bake pink cheesecake recipe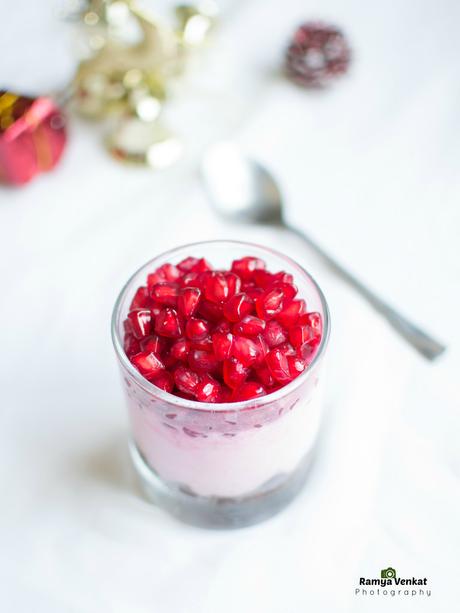 wishing everyone Happy New year and welcoming 2016 with a cheesecake recipe.This is again a no bake recipe in the line of no bake goodies am posting since last month.Last year the same i shared plum cheesecake,so thought of making cheesecake and want to post as a beginning recipe for this year with a sweet creamy note.this dessert come under dessert in glass or individual dessert category and it is easy to assemble and serve.
I want the recipe simple and you can make the recipe easily anytime as pomegranate is easily available throughout the year.These rubies did a magic to the recipe and to the snaps too.I love taking pictures with these rubies.I used the raspberry flavored agar agar in the recipe to make it more flavorful.It provides a beautiful flavor and i love that too.I made this for our anniversary and it was a hit in home.V enjoyed a lot and i made the biscuit base with leftover ganache and digestive biscuits.you can also make strawberry compote and combine it with the pomegranate juice if you did not want the flavored agar agar in the recipe.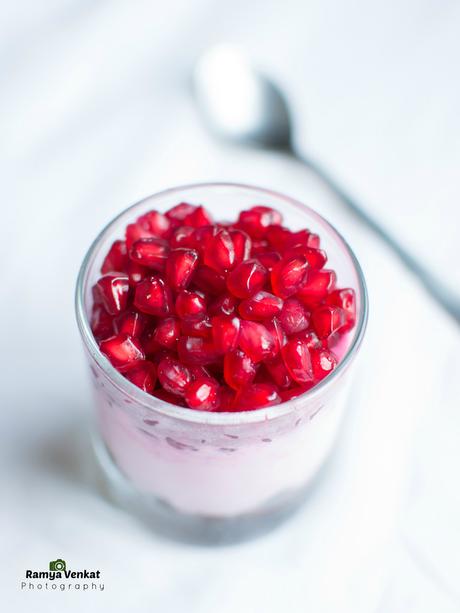 You have to extract the juice from pomegranate by mashing it with spatula or by hand in the sieve.collect the liquid and then use.This makes the color of the pomegranate juice as same as it seems.If you blend it in blender,the color of the juice obtained is dark pink or purple.I used 1 large sized pomegranate for making the recipe.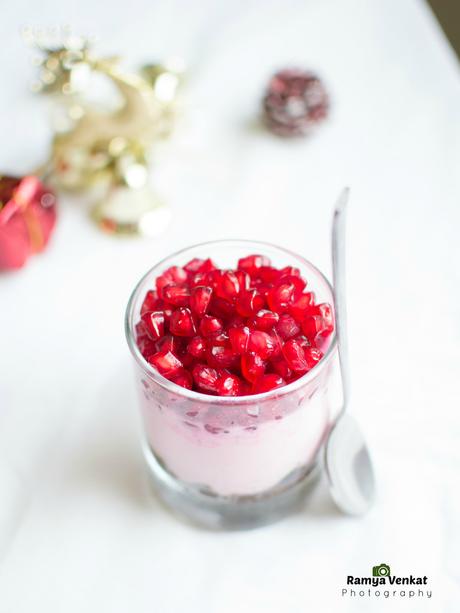 As usual i used homemade cream cheese and added powdered sugar and pomegranate juice and combined with agar agar and i poured it to the serving glass and set it.Topped with pomegranate only because i want the crunchiness and also the creaminess along with it.I did not made any compote.If you want to add compote then prepare it and pour it while serving.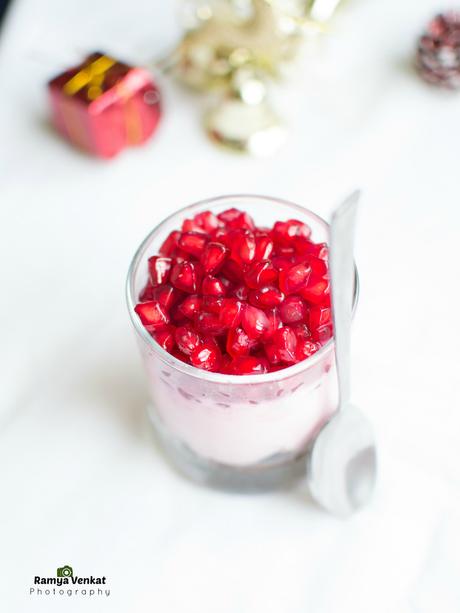 lets move on making the recipe.,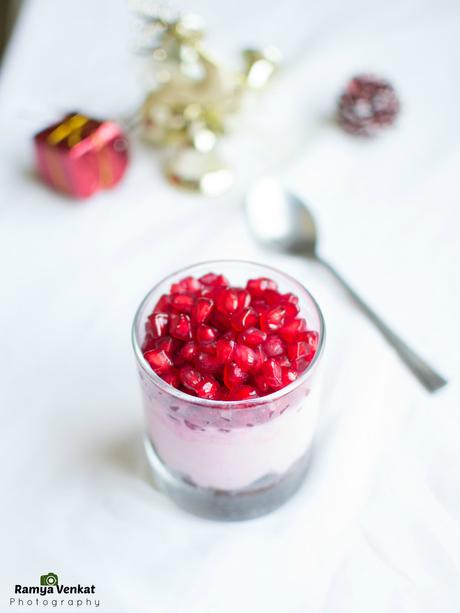 pink cheesecake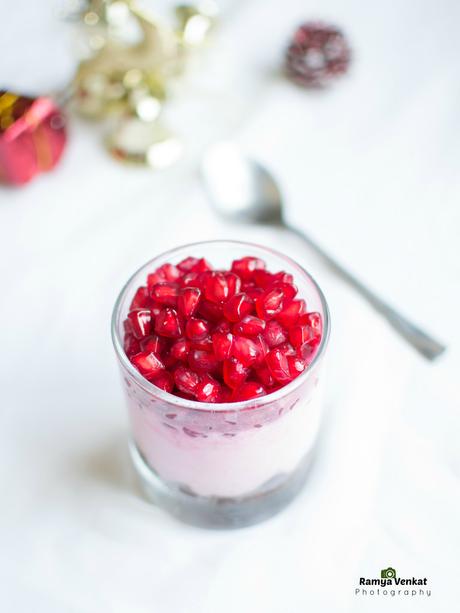 no bake cheesecake made with pomegranate,homemade cream cheese

Ingredients
cream cheese - 1 cup
pomegranate - 1 large size
powdered sugar - 2 teaspoons
agar agar (raspberry flavored) - 3 teaspoons
water - 100 ml
cold water - 50 ml
biscuit base - digestive biscuits+chocolate ganache
Instructions
You have to extract the juice from pomegranate by mashing it with spatula or by hand in the sieve.collect the liquid and keep it refrigerated.
Boil water and add the agar agar.Make sure it is completely dissolved and then switch off the flame.Now add the cold water and give a mix and wait till it cools down.
Now make sure the cream cheese is in room temperature ie., soft when mash by spatula.Otherwise wait till it came to room temperature and then use.
Now take cream cheese in a bowl and add the agar agar mixture along with powdered sugar and keep on whisking until you get a creamy dip like consistency.
Take the serving dish and place the biscuit base by powdering the digestive biscuits and combine it with chocolate ganache and press it in the bottom of the serving dish.
Now pour the cheesecake mixture and keep refrigerated for atleast 1 to 1 1/2 hours.
top the cheesecake with pomegranate kernels and serve.