Hey Loves, 
I am really excited to share my
FIRST
Nail Art
Tutorial
! I have always been the type of girl who loved changing her nail polish. I learned to paint my nails (myself) at a very young age. Just like with anything, practice really does make perfect. Last week, I dabble in some hand painted artwork. I am currently obsessed with pineapples, like most of you are. I pulled inspiration from one of my summer tanks. 
Check out my tutorial!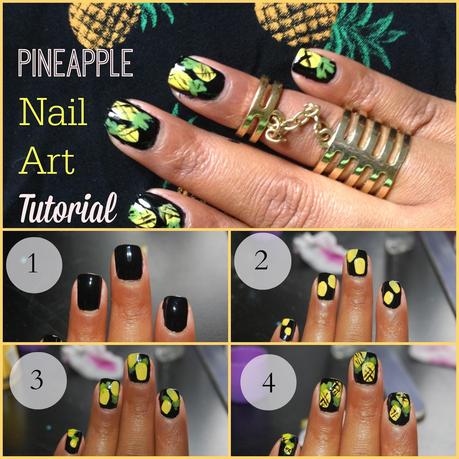 Pretty simple right? 
Here's what you will need: A black base coat. A yellow of your choice and a green. I didn't have an exact green I needed so I mixed the yellow with a blue to get this color. 
Steps:
1) Paint all your nails black.
2) Swipe the yellow in two random spots on your nails.
3) Using the green, make the steam. I used a thinner brush to paint on my stems. You can use the regular nail polish brush but just make sure you are using a "light hand".
4) Using the black, make criss cross marks on the yellow to make your pineapples "come alive". 
*Finish off with your favorite top coat*
Voila!
You're done.
I had a lot of fun creating this nail art tutorial and I hope to make some more. Until next time...............