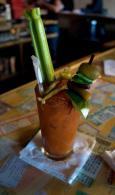 Get out your "cool chick" meter...are you up for this?
Jonesing for some great vegan appetizers, like empanadas?   Have a thirst for draft beer or vegan Bloody Mary's?
---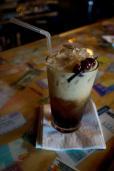 How about "Sam in a Sweater", a funky cocktail which features Crystal Head vodka, Cointreau, and homemade vegan Irish Cream and A&W root beer, served up in a pint glass with a brandied cherry and a bendy straw.
If you're interest is piqued and you're near Brooklyn, head down to the all vegan (beers too!) Pine Box Rock Shop on 12 Grattan Street.
---
I heard about this place from one of my readers (thanks Elizabeth!)  While I'm sure it's generally just a cool place to hang, they are having a new event I wanted to share...
Catch AMC's newest hit series, "The Killing", Sunday nights at Pine Box Rock Shop at 10pm throughout the season. During each show, focused on Detective Sarah Linden, you'll enjoy 2-for-1 glasses of wine and $5 olive plates.  They also have 16 draft beers from which to choose.  What a fun way to hang with your friends, and make some new ones!  I don't live anywhere nearby so someone has to report back and tell me how it is!