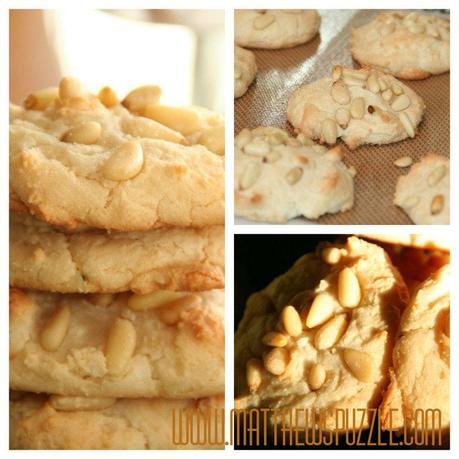 When I was a child one of the best parts of Christmas was baking cookies with my parents. I loved the smell of our home while they baked, I loved the feel our our kitchen while we prepared the dough. I loved how our house was filled with so much love and affection, and that is what made Christmastime so special. When I had Matthew I was so excited to be able to share this tradition with him, but when we realized he and his brothers did better on a gluten free casein free diet I thought Christmas cookie making was out of the question. Then I realized there were several really wonderful cookies that were naturally gluten and casein free, such as the Italian Pignoli cookie.
I found this wonderful Pignoli Cookie Recipe on line and set to making these soft, moist, almond flavored treats just in time for the holidays.
To make them Gluten Free please be sure you purchase a brand of almond paste that is states it is gluten free or check with the manufacturer. The first almond paste we bought actually contained wheat! The recipe also suggests you use the canned paste not the one found in a tube.  Enjoy.
Print
Pignoli Cookie Recipe Gluten Free Casein Free Author: 
Epicurious
Recipe type: 
Cookie
Cuisine: 
Dessert
Prep time:  10 mins Cook time:  12 mins Total time:  22 mins   Ingredients
2 large egg whites
2 (8-oz) cans almond paste (not marzipan), coarsely crumbled
1½ cups confectioners sugar
½ teaspoon salt
2 tablespoons mild honey
1 cup pine nuts
Instructions
Preheat oven to 350°F.
In a stand mixer, beat egg whites until foamy.
Add almond paste, confectioners sugar, salt and honey and mix.
Scrape down bowl and mix until smooth at medium-high speed, about 5 minutes (batter will be very thick)
Using wet hands (keep a bowl of water handy and re-wet hands as necessary), shape dough into balls.
Pour pine nuts into a bowl.
Drop dough balls into pine nuts and press the pine nuts into one side of ball.
Place dough ball with pine nuts facing up on a silpat or parchment lined cookie sheet.
Bake cookies in upper and lower thirds of oven, until golden, 12 to 20 minutes total.
Slide cookies on parchment onto racks to cool completely, then peel cookies from parchment.
Read More http://www.epicurious.com/recipes/food/views/Pignoli-Cookies-107447#ixzz2ExDohfqK
Notes I used a baking stone and needed to bake cookies closer to the 20 minute time.
WordPress Recipe Plugin by

EasyRecipe
3.1.09