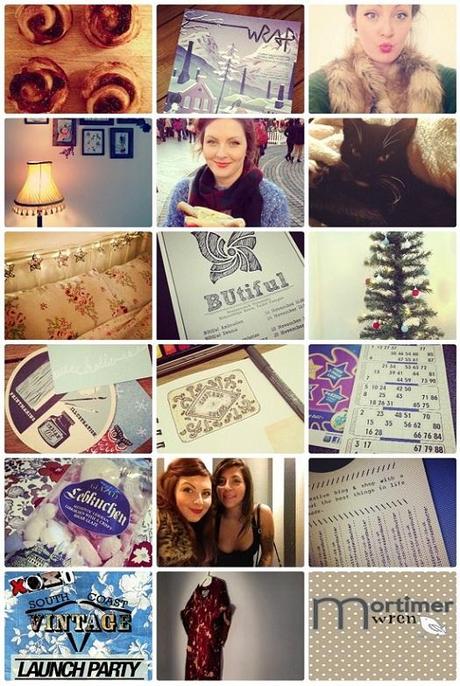 I'm squeezing in a quick blog post between exams. I've already had one this morning, so am sitting down with a well earned cup of tea. I have got lots of deadlines at the moment so all has been fairly quiet on the Thread and Butter front. Here is a haul of photographs so you can see what I have been up to lately.
(From top left to right)
1. Home made roly-poly mince pies.
2. This months magazine from my Stack subscription is Wrap. It celebrates illustration, design and creative culture. It's full of beautiful prints and interviews that are great to read huddled up away from the winter chills. There's also a selection of prints that you can pull out and use as wrapping paper/posters. Definitely up there on my list of favorite magazines.
3. Wrapping up in my furry winter scarf
4. A beautiful lamp I bought from The Crooked Book. So happy to have found this independent coffee/book shop as it's just round the corner from my house. It's got a great range of vintage home ware on sale too. 
5. Bratwurst! It's not Christmas until you have been to the Christmas Market and eaten a yummy German sausage.
6. One of two cute kitties that live back in Southampton at my mums house. I miss them lots and wish they could be with me in Bournemouth. I am a self confessed crazy cat lady, I even blow them kisses on facetime :/ too far?
7. Star Christmas lights bought from Wilkinson for £12. After spending lots of money on the lounge I'm on a mission to make the bedroom more homely. Can't go wrong with glowing fairy lights.
8. BUtiful Animation Festival was held by Bournemouth University on a few weeks ago. It was great to see lots of different types of animation. After watching an animator work all day and night to complete projects, I really appreciate all the work that goes into producing films.
9. My mini Christmas tree!
10. These are a few business cards of my favorite stalls from a pop up market I stumbled on during a beach bike ride. 
11. Illustrations I was working on before all my deadlines fell on top of me. Hope to get back into drawing and get some prints made up in the New Year. Watch this space for resolutions.
12. B-I-N-G-O! What started to be a joke is now turning into a Thursday tradition. We've started going to Bingo. It seemed to be a case of beginners luck, with the first time we went take home was over £80. I can't say the same for the following trips, but you never know. 
13. Lebkuchen authentic German bisuits with a crispy sugar glaze. They are the tastiest treats. It's a shame they are seasonal, however a blessing in disguise for my waistline. 
14. My buddy Nora. I've been missing Southampton a lot lately. You don't know what you've got until it's gone as they say. However, I am super excited about going home for Christmas.
15. New promo posters
16. This month was the launch of South Coast Vintage. It's a new one stop shop for a vintage clothes, they are also stocking a great range of independent labels from around the UK. Including Thread and Butter ;) The launch party was hosted at Unit Club in Southampton and looked like a brilliant night. 
17. Splatter tshirt by Thread and Butter. This range is available to buy through South Coast Vintage so do make sure you check them out. All handmade to order so 100% unique.
18. Mortimer Wren is the brother company of the lovely Matilda Wren. A great collection of vintage menswear available. You'll find them at markets all around the South so check their website for their whereabouts.