Digital photography has introduced us to many creative things. Giving our mundane things a personal touch is Thanks to fun and creative. A lot of people love calendars but don't know how to make them on their own. This is where Photo Calendar maker software comes in handy. ready-made templates, users can make and print their customized calendars in no time at all. Whether it is a business trip or a planning birthday party, giving calendars, a personal touch is always a thoughtful gesture.

What is Photo Calendar Creator?
Photo Calendar Creator is a convenient and easy-to-use program for creating custom calendars for a week, month, quarter, or a whole year. Users select a suitable template, add in the photos, and print their calendar right at home.
A personal schedule is an excellent gift for friends and family; it is also a great way to promote businesses. There are over 200 calendar templates to choose from, and the software facilitates them by adding finishing touches to the photos.

Main Features of Photo Calendar Creator
Photo Calendar Creator is very convenient and easy to use. It has a lot of amazing features which simplifies the process of printing a custom calendar at home.

1. User-friendly interface
The software interface is very interactive and user-friendly. The program is wizard-driven. It hardly takes users 5 minutes to print their calendar. Users are supposed to select a template style, type of calendar, its dimensions, and resolutions.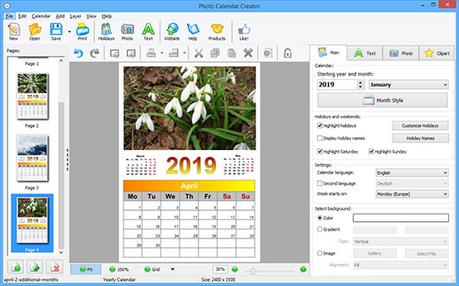 The chosen layout can be resized and modified, and the environment is point-and-click. This feature makes it a cheap, fast, and creative way of creating personalized calendars.

2. Built-in photo editing
Photo Calendar Creator lets users adjust the brightness and contrast of images without any additional editors. There are many other creative tools, such as adding a mask, an outline, transparency, etc.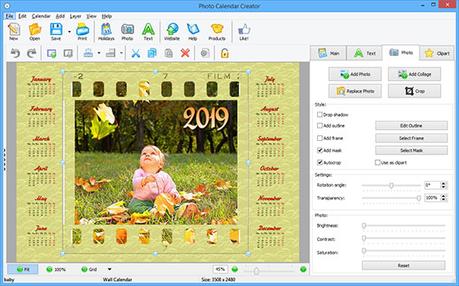 There is also an option to create a photo collage, where the images can be moved from front to back and vice versa. Depending on the template chosen, the editing image option can change.

3. A large number of templates to choose from
A premium selection of templates includes templates under different categories, such as Wall, Desk, Spiral-Bound, Custom Calendar, etc. Users can find a calendar as per their taste. There is a large variety of designs and layouts to choose from.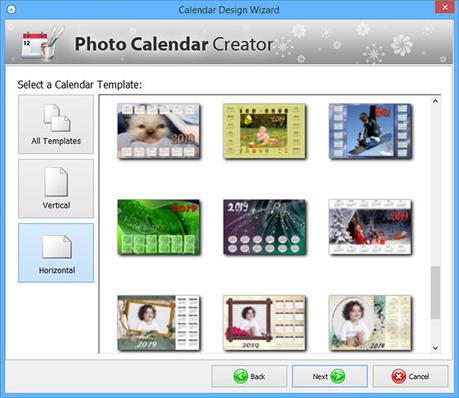 4. Personalized calendars
From 200+ design templates available in Photo Calendar Creator, it is plausible to make a unique calendar design. For this, users can customize the templates provided and create their own styles. There is an option to add a photo to every cell of the calendar grid. Users can add any number of photos,
texts, and graphics to give their calendar a personal touch. The idea of making personalized calendars is all about experimentation and fun.

5. Holiday customization
Users of Photo Calendar Creator have an option to add holidays, personal dates, and special events. The dates are marked on the grid. Photo Calendar Creator also helps group the dates mentioned into categories. These categories include birthdays, anniversaries, religious, professional, etc.

6. High-quality calendar printing
Users can print professional calendars. These calendars look very similar to their store-bought counterparts. Users can select the paper format (A3, A4, 11 x 17), etc. the software also supports printing calendars on the same page by inkjet and laser printers.

7. Reaching out to businesses with promotions
Designed calendars are a great source of promoting businesses and are used by corporations for advertising. This option lets users add the company logo, corporate information, description of the product, etc. and helps them grow their company recognition.

8. Multilingual content creation
Photo Calendar Creator allows making calendars in the user's native language or even two. This software supports English, German, French, Spanish, Italian, etc. The days of the week and the name of the month can be written in a bilingual manner on the calendar.

How to Use Photo Calendar Creator?
Since the software is pretty easy to use, working along the following guidelines will help users make their personalized calendar in no time.
1. Download from its official website and follow all the instructions to install Photo Calendar Creator.

2. Pick the type
The software offers a wide range of calendars, including wall poster, booklet, spiral-bound, folding desk calendar, etc. These types of calendars can be both monthly and yearly.

3. Enhance your photos for the calendar
The photos added can be edited and improved. Depending on the type of the calendar chosen, it is possible to add a background image or a collage of pictures devoted to a special occasion.

4. Decorating the photos
Photos can be decorated with frames, masks, effects so your calendars will look and feel well-balanced.

5. Personalize holidays
While creating a personalized calendar, users can add their own events and holidays. There is a special section called "Customize Holiday."

6. Print your calendar
After choosing a template, adding their photographs and the list of holidays, users can print their creation. It is relatively simple to take a printout of the calendar right at home.

Pricing of Photo Calendar Software
There are three versions of Photo Calendar Creator: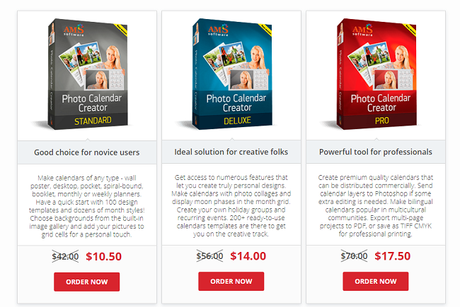 Standard: This one costs $29.40 and has offered a quick start with 100 design templates and monthly styles.
Deluxe: This version costs $39.20 and comes with 200+ ready-to-use calendar templates.
Pro: This one costs $49.00 and apart enables to save calendar designs as PDF, TIFF, CMYK
Conclusion
So, if you want to give a calendar as a gift to your family, friends, loved one, you should check this program out. There is a free demo version to try. It gives users a general idea of the software before buying. We hope this review will help you in choosing a perfect tool for making a custom calendar. Have fun exploring Photo Calendar Creator!