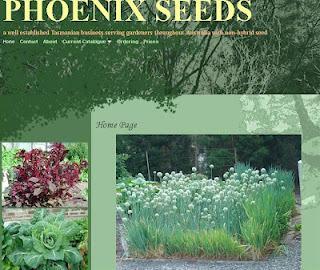 Phoenix Seeds where I have been buying seeds from for around 20 years now has a website!!!
They have a great range of more unusual seeds on offer. All kinds of Vegetables, hard to find Herbs,useful Flowers, Trees, Shrubs and Climbing plants.
The website has all the information that is available in the catalog. Especially useful is the Planting Code information for each seed packet...the following is from the website:
"The planting code is composed as follows:
Habit: Annual (A); Biennial (B); Perennial (P)
Sowing procedure: sown direct in the garden (d); sown in beds or trays & transplanted later(t)
Sowing season: spring (sp); summer (su); autumn (au); winter (w); early (e)
(An item in brackets here means that the seed can be sown at this time outdoors in warmer climates or indoors in cooler climates)
Number of seed per packet (or weight in grams(g)). This item is subject to wide variation and is at best an approximation.
Time taken for seed to germinate: short (S) 0-14 days; long (L) 15-25 days; extra long (EL) 26+ days; (EEL) maybe a year or more
Optimum soil temperature for seed germination (in degrees C)
Frost tolerance (FT), Drought tolerance (DT)
Light or Dark required for germination (Light) or (Dark) "
I will continue to email out a pdf copy of the catalogue, as will Phoenix Seeds if required.
Contact Phoenix Seeds for a paper copy.
Last year I emailed 75 copies of the catalog.