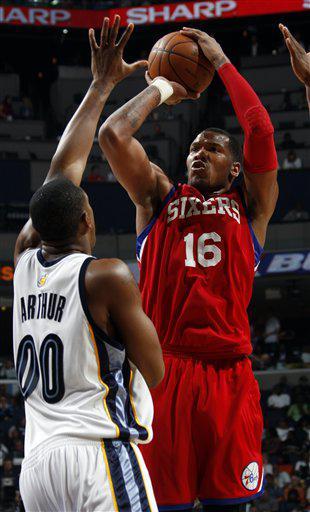 Photo: detroitbadboys.com
- Adam Parker
The Memphis Grizzlies acquired center Marreese Speights from the Philadelphia 76ers in a 3-team trade Wednesday night.
This wasn't a blockbuster deal by any stretch of the imagination, but it was a necessary move for the Grizzlies, who are off to a (2-3) start to the season after coming in with arguably the highest expectations in franchise history after upsetting the top-seeded San Antonio Spurs in the first round of the playoffs last season.
The other parts of the deal have the Hornets acquiring Memphis swingman Xavier Henry, and the 76ers receive two second round picks: the Hornets will send theirs from 2013 and the Grizzlies send theirs from 2012.
After trading franchise centerpiece Chris Paul to the Clippers for what at this point amounts to Eric Gordon and a few loaves of bread, the league-owned Hornets seem to be a willing trade concubine with just about any team in the league.
I'm not really sure what value they saw in acquiring Xavier Henry, since they already have wing scorers like Eric Gordon, Marco Bellinelli, and Trevor Ariza eating up minutes so the deal didn't make much sense to me on their end. Hopefully, for the Hornets' faithful, there's a method to their madness.
The 76ers obviously weren't too high on Speights anymore, and with the potential emergence of Spencer Hawes, the return of a healthy Elton Brand, and former USC Trojan Nikola Vucevic rounding out the rotation of bigs in the city of brotherly love, Speights became expendable. I'm sure Philadelphia was ecstatic  to receive two future second round picks for a sparingly-used player.
The Grizzlies were already relatively lacking in frontcourt depth, and now they have to deal with the injury to star forward Zach Randolph. The team reported Wednesday that Randolph has a torn medial collateral ligament and is expected to miss six to eight weeks.
Randolph was injured when teammate O.J. Mayo fell onto him in Sunday's 40-point loss to Derrick Rose and the Bulls. Memphis is already without versatile big man Darrell Arthur, its most valuable reserve, to a season-ending torn right achilles last month.
The void left by Randolph is going to be difficult to fill. Last season, Randolph averaged 20.1 points and 12.2 rebounds last season, and was averaging 19 points and 9 rebounds before he was injured.
The Grizzlies brought in Speights, the 16th overall pick in 2007, mainly because of his versatility. Standing 6'11" and weighing in at 245 lbs, Speights is that prototypical big man that's become so mainstream around today's NBA. He won't be able to provide the same lethal threat in the post as Randolph, but he does have a decent face-up game to compensate for his lack of back-to-the-basket moves.
Will this trade be enough to keep Memphis afloat until Randolph's return?
That's tough to say, especially considering that Speights has never averaged more than 16.4 minutes per game in the NBA and has yet to see the floor at all this season.
Regardless, Speight's youth and energy should make him a welcome addition to a young, up-and-coming Grizzlies team looking to return to the playoffs.
Be sure to follow Beard And Stache on Twitter 
@BeardAndStache
, 
and also Adam 
@Adam_Parker43
, Like our Facebook page 
HERE
!