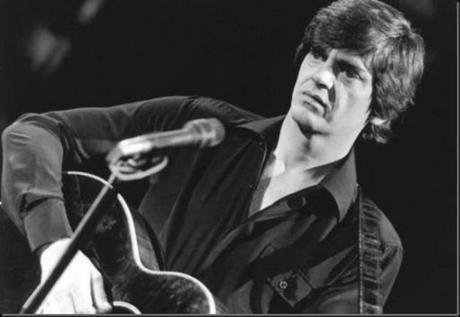 One of the great names of the pop music scene in the 50's and 60's and one half of the duo the Everly Brothers, Phil Everly has died in California due to a lung condition. In their heyday, Don and Phil penned a sting of successful hits including "Bye Bye Love", "Wake Up Little Suzie" and "All I Have To Do Is Dream" and were notable for their close harmony. Rolling Stone said that they were one of the most important duo's in popular music history.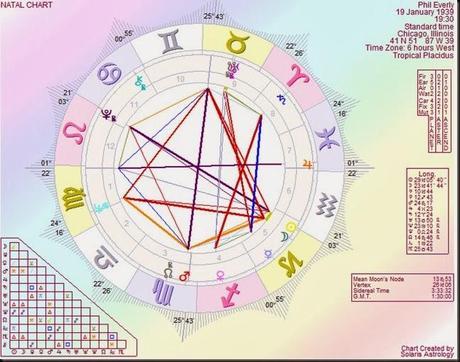 Phil, a Capricorn born on 19th Jan 1939 in Chicago (19.30 hrs) had a 5th house Sun conjunct to his Moon (also in the 5th house of entertainment) both opposed to Pluto, so here was a drive and determination to be famous and notable in a creative manner.
That Sun Moon conjunction was also part of a talented kite formation connected to Neptune in his 1st house Mars in his 3rd and his Midheaven, his point of career. Of course we all know he sang with his brother Don in The Everly Brothers and the house of his brother, the 3rd where Mars was tenanted was ruled by Venus (Libra on the cusp). Looking to Venus, you will see it sitting in the 4th house of the family and trine to Saturn, the planet of ambition; a clear link to working and collaborating very easily with his brother. Venus through Taurus also ruled his Midheaven and thus also his 10th house of career. Mercury, the planet of communication was also in the 5th house of creativity square to Saturn, strengthening the link to a career (Saturn) in show-business (5th).
Phil had a couple of very interesting fixed star connections too. His Midheaven was conjunct to Algol, the demon star and this lead to him forever seeking a challenge through his work. He also had his natal Neptune conjunct to the star in the constellation of Hydra, Alkes, indicating he had special gift and a magical quality that he brought to other people. With his brother Don, he certainly did...