Last weekend we popped over to the cute Lancashire village of Appley Bridge to visit Pesto at the Dicconson Arms, a beautiful marriage of pub meets Italian food and not just any Italian food, piattini no less. Situated just off the M6 junction 27 as you head towards Parbold, its really easy to find.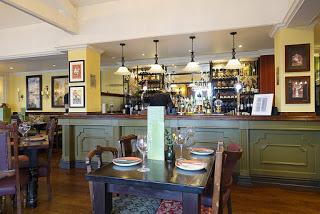 The decor is classic country house with contemporary Italian touches, I particular liked the chunky Mediterranean pottery and flashes of lime green and orange in the decor. The facilities were lovely. very clean and nicely furnished too.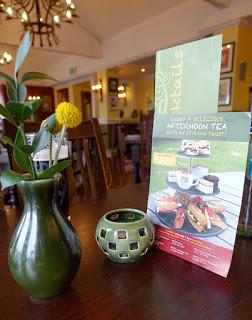 The staff were warm and friendly and on arrival we were shown to a delightful window side table, furnished with the chunky pottery as previously mentioned. We ordered drinks as we perused the extensive menu, which caters for all. Even though it was fairly early into the lunch service we were soon joined by plenty of other diners.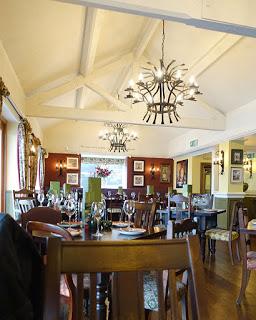 The ambiance in the restaurant was good, the tables were decadently spaced and unlike a lot of other contemporary styled venues, it wasn't echo prone.                                          
Piatinni for those not in the know is the Italian version of tapas, i.e small plates, well for me that's almost food heaven. Italian food but with the ability to taste anything and everything, so we did just that selecting from across the wide and varied menu. Here's our selection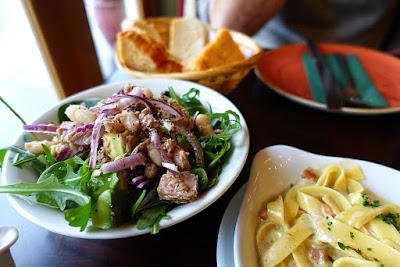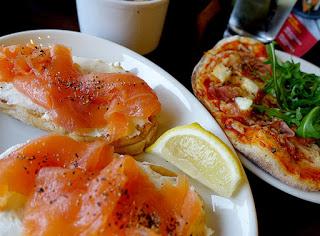 Bruschetta al salmone affumicato - just enough for two, crunchy bread topped with smooth cream cheese and moist flavourful smoked salmon.
Olive miste - mixed olives, tasty and more than adequate, but not the best olives I have every eaten.
Selezione di pane Italiano - bread basket of various breads, including sun dried tomato, ciabiatta. On the menu this is supposed come with oil and vinegar, ours didn't arrive, minor point and frankly we didn't notice until comparing the menu and what we had ordered for this post. Sure if we had mentioned it would have arrived pronto.
Insalata Toscana -  one of the stand out dishes, mixed salad with beans, avocado, tuna and red onion. Perfectly seasoned and with a delicious dressing, just enough to enhance and not drown the salad.
 Calamari fritti - a personal favourite, lightly battered squid rings with a punchy dip
Gamberoni all' aglio e peperoncino - tasty king prawns with hints of garlic and chilli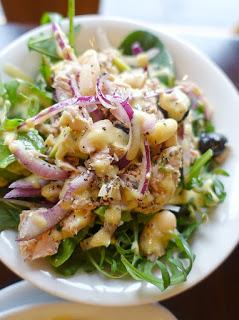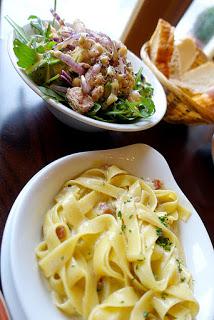 Polpette di manzo - Spicy meatballs, served with a tasty tomato sauce, enough spicing to keep them interesting yet not blow your head off.
Pizzetta rustica - Cute little baby pizza, topped with goats cheese and rocket. Very tasty, just wished we had ordered two. Nice crust on the pizza
Fettuccine alla carbonara - an Italian classic, pancetta was crispy and the sauce silky, pasta al dente. Very nice would order again.
Arancini - classic milanese risotto (saffron) balls in a crispy crumb, stuffed with melted mozarella. I was recommended by a friend who eats regularly at the Trafford Centre Pesto, they were nice but thought they lacked a dip or sauce to eat them with.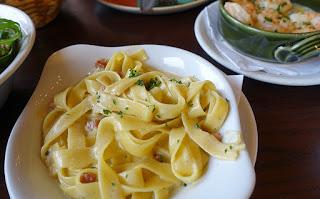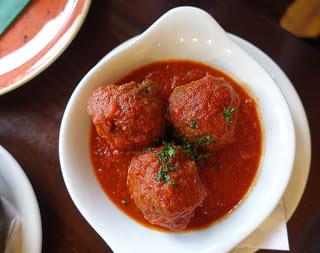 Followed by desserts to share
Affogato - two balls of ice cream, we chose chocolate and vanilla, topped with a hot shot of espresso, delicious and very refreshing,  I love affogato and the combination of coffee with chocolate was sublime.
Tiramisu - served in a cute little pot, we were warned the portion were small, but we didn't think they were at all, just the perfect size. Lovely light sponge, creamy filling and more coffee flavor.
We really enjoyed our lunch and were impressed with the standard of food , we noted that they have an offer of 3 piatinni dishes for £8.95 or £10.95 at certain times and days, which looks to be good value for money. Pesto is a small and growing chain so check out if there is one near you.
Interestingly enough one of the waitresses mentioned that most men don't get the concept of piatinni , Mr LF had no such trouble !
The staff had no idea that we were undertaking a review until it came to settle the bill, so we received exactly the same service standards as anyone else visiting. We were mightly impressed by Pesto, the venue and concept is unique in the area and we are already planning our next visit.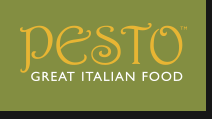 Our lunch was provided free of charge for review purposes, all views and opinions are our own.