So good they named it twice? 
Another offering from the folks at Pressup, Peruke & Periwig, is in a similar style to it's sisters VCC and The Liquor Rooms. It begs the questions are we not done with pastiche yet? Nah! personally I like it! There was definitely an opening for a wig themed bar in Dublin!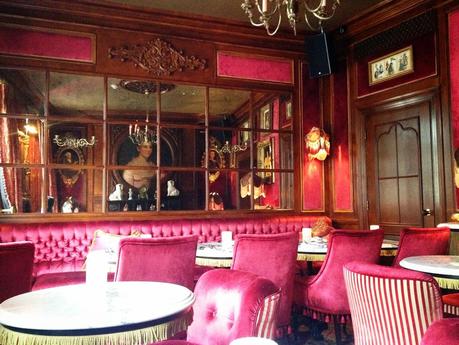 The beautiful upstairs salon. Comfortable and relaxed. 
On a recent visit myself and Lady C were dining upstairs, away from the establishment's namesakes, in a gilded and brocaded salon. As two ladies out for a boozy meetup Peruke & Periwig seemed to meet our needs entirely.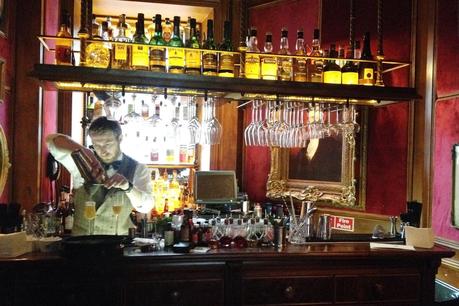 Mixologist at work. 
We perused the impressive and extensive cocktail menu, it was a difficult choice but in the end C went for a French 77 and I for a Sidecar. From our seats by the window we could see the well stocked cocktail bar and had a good view of our drinks being concocted!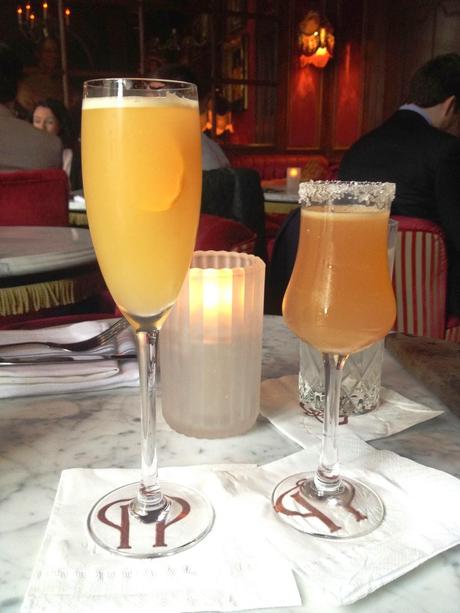 C's French 77 and my Sidecar. 
As talking and drinking were to be the focus of the evening food took a back seat. Instead of the usual starter and main course routine we opted for four starters to share which included some pork short ribs, a smoked haddock and prawn gratin, a rocket salad and some mushroom risotto balls. Have an oogle;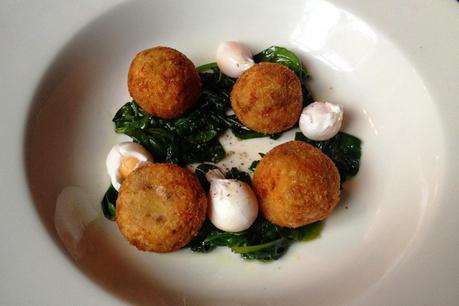 Wild mushroom risotto with quail eggs and spinach.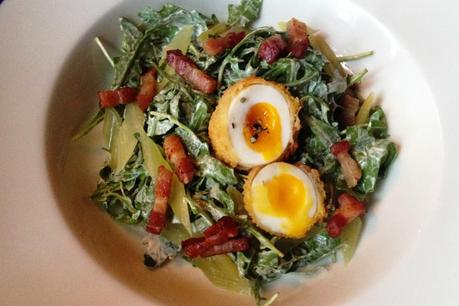 Rocket, bacon and egg salad with ranch dressing.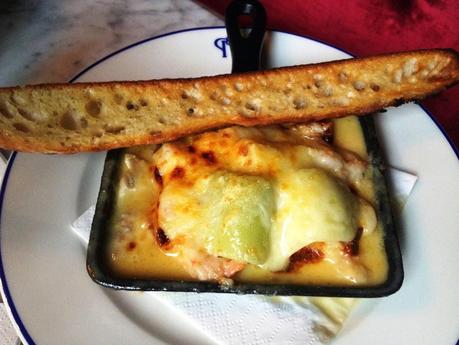 Smoked haddock and prawn gratin with leeks and gruyére cheese.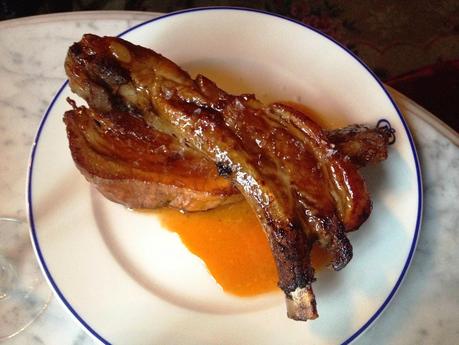 Pork short ribs with apple cider and whiskey glaze.
The food really stole the show, it was delicious! We tried to catch up in between mouthfuls of gooey breaded deep fired egg and not-so-short short ribs! I was particularly impressed by the risotto balls, lovely viscous balls of rice and mushroom, rich with the flavor of parmesan. C was satisfied with the generous amounts of crispy bacon in her salad and the tangy dressing. The conversation was put on hold for a while!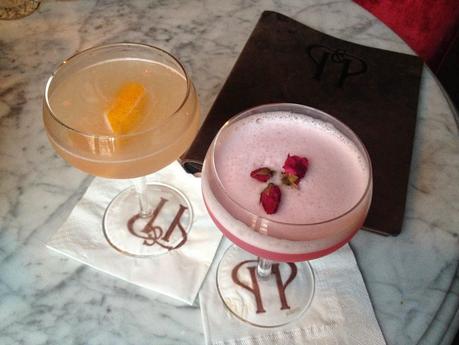 With the food gone we scrutinized the cocktail bible once again and decided on a Clover Club and a Hemingway Daiquiri. We sat back and enjoyed the nice warm ambiance, thanks in part to the open fire beside us, but something was niggling at me and I couldn't let it go. 
The price:size ratio of the damn cocktails!
At approximately €12.00 a pop these guys, while pleasant, were just far too small for my liking.  I mean, they are absolutely tinchy, minuscule, veritable mini-cocktails! Delicately balanced creations they might have been but when I'm paying this price for a cocktail I need some kind of evidence that it's worth it. After two I need to feel some kind of head buzz! Unfortunately I felt as sober as a judge, so much so that I could have donned one of the aforementioned wigs and held court.
We paid the bill, €90 for four starters and four cocktails, with a clearheaded wince, and vamoosed quicker than a cheap toupee could slide over a bald man's head to the The Mint Bar in The Westin for some slightly more substantial beverages. I'm not ready for a return to Celtic Tiger value so I think I'll be giving Peruke & Periwig a wide berth for now despite really enjoying the grub.
Peruke & Periwig
31 Dawson Street
Dublin 2
01 672 7190
Website