The following press release is courtesy of Dowling & Dennis Public Relations | 24 Marsh Drive |  | Mill Valley | CA | 94941
July 9, 2013
Contact: Lisa Worley
(305) 243-5184
E-mail:
[email protected] [mailto:[email protected]]
 Molecular Subtyping of Breast Cancer Shows Potential of Personalized Medicine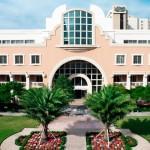 A new study at the University of Miami's Sylvester Comprehensive Cancer Center shows the potential of personalized medicine to guide therapy in early-stage, invasive breast cancer. The study in the rapidly advancing field of molecular subtyping was led by Stefan Glück, M.D., Ph.D., professor of medicine.
Writing in the journal Breast Cancer Research and Treatment, Glück and colleagues compared the findings of molecular subtyping to those of traditional clinical pathology to determine breast cancer type, which is used to help guide treatment.
"Molecular subtyping of early-stage breast cancer with the MammaPrint and BluePrint tests identifies a group of patients who do not benefit from neoadjuvant (preoperative) chemotherapy," said Glück, who is also a member of Sylvester's Braman Family Breast Cancer Institute.
The study:
[http://r20.rs6.net/tn.jsp?e=0018kBgpjljiaiyrJiQgMVoZi5Z0eBWQ7of2Qp
N2R23n6DHVDafBs66qDRds-SVYcv3T-y7HAbdxTi21OSOwQ7-
m3zvYZs5cL2Bc5wFQ0KZOUdsJxVUyd_
OG4sIyn5PIiKzpcyEX-t5pFZyqtANtIv8KQ==],
"Molecular subtyping of early-stage breast cancer identifies a group of patients who do not benefit from neoadjuvant chemotherapy," was published online in June, ahead of the journal's print edition.
Analyzing data from four clinical trials with a total of 437 patients, researchers found a group of 90 women (21 percent) who showed little if any benefit from chemotherapy and who had good outcomes five years after surgery. That group could not be identified using the methods of traditional clinical pathology.
This group represented a molecular subtype, Luminal A, identified by the BluePrint and MammaPrint assays, which help physicians identify genetic pathways and guide treatment of breast cancer. The most significant study finding was that one-fifth of the patients fell into the Luminal A molecular subtype. They showed no benefit from chemotherapy and had a five-year metastases-free survival rate of 93 percent, the highest rate of any group in the study.
"Molecular subtyping shows the potential of precision medicine in early breast cancer therapy," Glück said. "In this study, the advantages of molecular subtyping allowed us to identify both patients who could avoid chemotherapy prior to surgery, and those for whom chemotherapy provides a benefit."
"The identification of (the Luminal A) group could lead to improved treatment," the researchers wrote, "with patients being able to avoid chemotherapy and to receive preoperative and adjuvant endocrine therapy alone." Adjuvant therapy is delivered after breast cancer surgery. Breast cancer subtyping has been found to improve the selection of breast cancer patients for both adjuvant and neoadjuvant therapy, which is delivered prior to surgery to reduce tumor size.
The retrospective study was performed on samples from patients enrolled in four independent neoadjuvant chemotherapy clinical trials: 144 patients from the I-SPY 1 trial; 131 patients and 99 patients from two biomarker discovery trials at the University of Texas M.D. Anderson Cancer Center; and 63 patients from the Cityof Hope National Medical Center.
The MammaPrint, BluePrint and TargetPrint
[http://r20.rs6.net/tn.jsp?e=0018kBgpjljiaiXKLNRC0gpDP7w3nXTUw_
yYG0xYLOvR4079S41czff5rcvbvOjeWM5qP-53OK8Zq563WOvVefIesY9H0ZbvO6MtydvrLo
MH21byg0do1qnr__bK_Pq6qYa]
tests of surgically removed tumor tissue are part of the Symphony panel of tests, made by Agendia, Inc.
About the University of Miami Sylvester Comprehensive Cancer Center
Sylvester Comprehensive Cancer Center opened in 1992 to provide comprehensive cancer services to the South Florida community. Together with the 40-bed inpatient hospital, UMHC – University of Miami Hospital & Clinics, Sylvester/UMHC serves as the hub for cancer diagnosis and treatment for UHealth – University of Miami Health System.
[http://r20.rs6.net/tn.jsp?e=0018kBgpjljiahjoBf_SlZIY6WWpgfyqZD1Pes-tJJHtTQWNv_JNBqIxHvKxmAG2e4zYYeMmPrDLze6FhWaTrmI_
BZI6HajMDuygovGDCZIM34MUelK9_I82e27XbKYQiCX].
In 2003, Sylvester expanded its cancer services to patients in Broward and Palm Beach with the opening of Sylvester at Deerfield Beach. A third facility, Sylvester at Kendall, was opened in 2009 to serve patients in southern Miami-Dade County.Our fourth and newest facility, UHealth | Sylvester at Plantation, serves patients in Broward county and includes services such as infusion therapy, imaging, and laboratory services. Since its founding, Sylvester has transformed cancer research and treatment in South Florida and beyond.
Sylvester handles 1,100 inpatient admissions annually, performs more than 2,400 surgical procedures, and treats more than 4,100 new cancer patients. All Sylvester physicians are on the faculty of the Miller School of Medicine.
[http://r20.rs6.net/tn.jsp?e=0018kBgpjljiagZWNo12mEifiCISXbqW3qKzRZd9um5m
WpLdqUMngyjADsEVJvTvLwDtqSFeMfQg561Dl4O9-
ObkPJMNoXLZdk44xxirVE7J61Co6XuDFlnZg==],
Today there are more than 305,000 outpatient visits at the cancer center and more than 250 physicians and scientists working together to realize Harcourt Sylvester Jr's vision of a comprehensive cancer center. In addition, Sylvester physicians and scientists are engaged in approximately 168 clinical trials and receive more than $49 million annually in research grants.