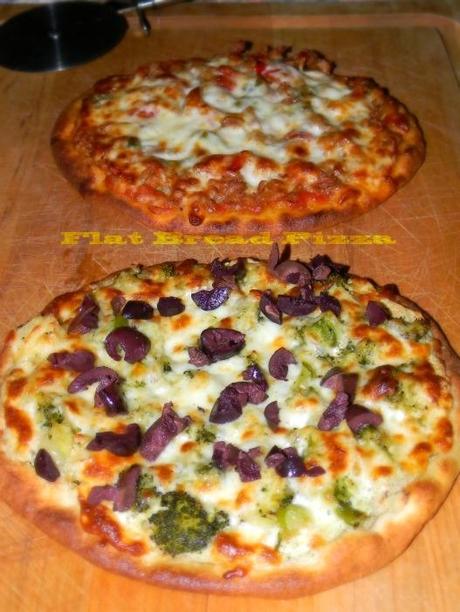 When I can't get to my grill, I use flat breads as pizza crusts. The thinner the better, I don't like those Boboli and Dijorno ready crusts. We are a thin crust pizza family and if I make my own using yeast I can never get the crust as thin as we like it. Pizzas are an inexpensive way to make a quick dinner, and who doesn't love pizza?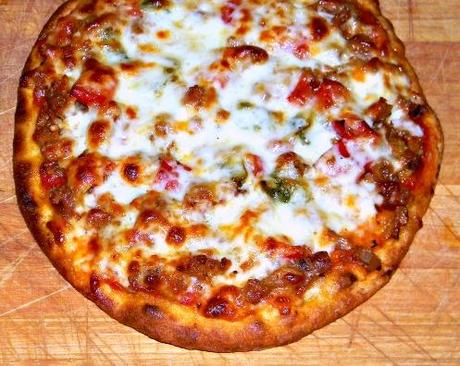 The Nudge likes a basic tomato & cheese pizza and on rare occasions with sausage and pepper.
Last night he wanted a tomato meat pie. I will skin a hot Italian sausage and fry it up with a hunk of red & green chopped peppers. Doesn't even have to be perfect, just chop away. He said it was really good but I am a white pizza person myself.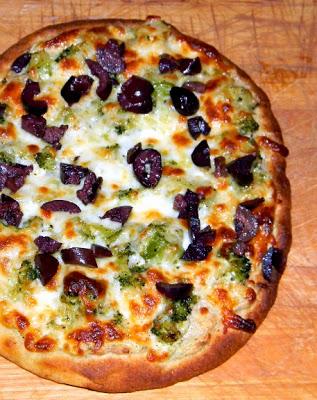 I had garlic broccoli in the fridge, pesto and ricotta cheese and topped with Kalamata olives. Yum, it had so much flavor.
These were about 8" in size, the right size for a personal pizza and the next time you find you have leftovers you need to use, plan a pizza pie party at your house.
When I check the deli "ends" section and find a special on a hunk of their slicing mozzarella, I put pizza on the menu.
Bake them at 400° for 20 minutes, then slide them under the broiler for no more than 5 minutes or until the cheese browns on top. Double yum!!