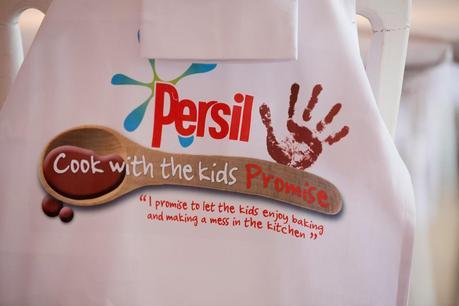 Persil Washing Up Liquid have this month launched a great campaign aimed at persuading parents to let & encourage their children to get into the kitchen, to cook & not to worry about the mess!
A recent survey revealed 88% of parents avoid cooking with their children because of the mess they might make....I think I'm possibly one of that 88%, on certain occasions anyway!
To celebrate the launch of their new harder working washing up liquid*, they have announced their "

Cook With The Kids Promise

" aiming to get 100,000 parents to sign up & promise to cook with their children.
Persil hosted a fun event last Saturday at the Oxo Tower on London's South Bank which I attended with my 8 year old son & a friend of his.
The children drew, played, cooked their own lunch & ended the day with a food fight....fun, food & a lot of mess, they loved it!
My children love to eat but I haven't actually cooked with them for ages....my daughter is pretty competent in the kitchen and my son likes to measure the ingredients when I am baking.I could definitely do more with them.
You can sign up here for the new campaign, I'm going to....you're never too young to get into the kitchen.....it's only mess after all, the skills they'll learn will last them a lifetime.


* the new Persil washing up liquid is available in six fabulous fragrances - Pink Blush, Orange Crush, Lemon Burst, Apple Fizz, Fresh Mint with anti-bacterial action, and limited edition Spring Blossom.