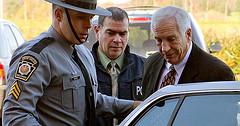 Jerry Sandusky, right, the former Penn State defensive coordinator — Until now, the Big Ten university had one of the most sterling images in college athletics (November 5, 2011) …. (Photo credit: marsmet551)
         A recent statement by the attorney of convicted child molester Jerry Sandusky, is an egregious insinuation! Sandusky's appeal attorney Norris Gelman stated, "Sixteen months after the trial, the alleged complainants who testified are now multimillionaires."  However, he refused to elaborate further. Sandusky was arrested November 5, 2011 on 40 different counts of inappropriate sexual behavior with children as young as 8. Sandusky is now serving 30-60 years in a Pennsylvania prison waiting for an appeal.
   On October 28, 2013, Penn State announced it would be paying out $59.7 million to 26 different victims of Sandusky. Penn State dropped the ball when dealing with the Sandusky case. Being, just as responsible, if not more so, than Sandusky. Penn State officials knew years back of Sandusky's perverted attraction to young boys; only taking his locker-room key as punishment. Allowing Sandusky to still have access to Penn State property. Thus making Penn State liable for damages.
   The seed Sandusky's attorney is trying to plant in the mind of Americans is foul. Money cannot give these victims their innocence back. It won't erase the haunting memories of being violated by someone they trusted! It certainly don't make up for the inept behavior on Penn State's part. The University traded the innocence of children for their reputation! No amount of money covers the egregious behavior shown by all involved. Any statement to the contrary is ridiculous, inflammatory, and ignorant at best.
   I wonder if he'd have the same attitude if it were his child pushed against a shower wall; forced into anal sex by some pedophile! Of course not! Furthermore, Norris Gelman is the money hungry ogre who is protecting a convicted child molester! And, for what? Money! What's more, he should have to make a public apology to all the victims. This statement was a knife in the back of victims. It is douche bags like him who make it hard to enact tougher penalties for child rapists. Norris Gelman should be admonished for his uncouth statement!
0.000000
0.000000