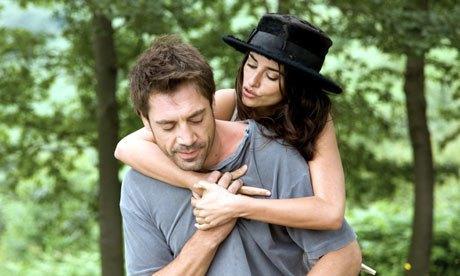 Javier Bardem, Penélope Cruz and in Vicky Cristina Barcelona. (Photo: Alliance Films)
-Penelope Cruz is reportedly pregnant and expecting her second genetically perfect child with hubby Javier Bardem.
-In other baby news, here's Evan Rachel Wood's tiny belly bump.
-The 30 Rock finale was perfection, no? I also liked this interview between the guys who play Pete and Lutz. Did you know Lutz and the woman who plays Sue are married IRL?
-Matthew McConaughey says a Magic Mike sequel is "legitimately brewing."  (I watched it over the holidays with my mother, who made me stop and rewind Joe Manganiello's pump scene. True story.)
-Who cares about football? Beyonce has released another video of her prepping for her halftime performance.
-Jennifer Lawrence says Jimmy Kimmel's producer got her a little tipsy before the show with tequila shots, which may explain why she told the story about her uneven boobs.
-Speaking of boobs, Lena Dunham says she won't be showing hers on Girls any more.
-Kareem Abdul-Jabbar has written a review of Girls. I have no idea why, but I enjoyed it more than James Franco's.
-Meanwhile, James Franco's next project will be a documentary on Gucci, for some reason.
-Steven Tyler snuck into the American Idol auditions last night dressed as a (really ugly) woman.
-With one tweet, Ashton Kutcher just proved he can pull off his Steve Jobs role.
-Katie Holmes went bowling and this is news, apparently.
-Also, Katie's official reason for not showing at New York Fashion Week kills me!
-Lady Gaga's six-hour sworn deposition against her former personal assistant Jennifer O'Neill has been released, and it ain't pretty. She called O'Neill a "hood rat" and a "disgusting human being."
-I actually think I would love Rooney Mara's weird dress if it wasn't white.
-It's cute how Nicole Kidman is trying to convince us that she no longer uses Botox.
-Vulture's tweet says it all: "Serious Director David Fincher is directing the 'Suit & Tie' video for Serious Actor Justin Timberlake."
-Miley Cyrus continues to try to convince us that she's totally rock 'n roll now by getting a tat from Kat Von D.
-Channing Tatum and Jimmy Fallon played with sticky balls last night.
-Liberty Ross is celebrating her split from Kristen Stewart-schtupper Rupert Sanders by posing nude in a UK magazine.
-Hannibal has been shooting next to my office for days and I still haven't spotted Claire Danes! (Though to be fair, I've been mostly keeping my eyes peeled for Gillian Anderson.)
-Is a woman actually trying to stand up to Harvey Weinstein? Pray for her.
-This should fill your 'bad mental image' quota for the month: Katie Couric says Larry King once 'lunged' at her during a bad date.
-I don't watch Downton Abbey but I still appreciate Sesame Street's spoof of it.