I love glitter polishes. There are sparkly ones, colorful ones, whimsical ones... yea, you get the idea. Unfortunately, they are a universally-acknowledged PITA to remove. :|| Even with the foil removal method, I still shy away from wearing them. I don't stop buying them though - I take them out to admire them in the bottles but mostly they just sit around in my drawers collecting dust. o"o
Thankfully, some creative genius came up with a revolutionary peel-off base coat that changed the sad fate of my glitter polishes for the better. With the peel-off base coat, glitter removal is easy as picking at the polish and peeling/popping them off the nail like this: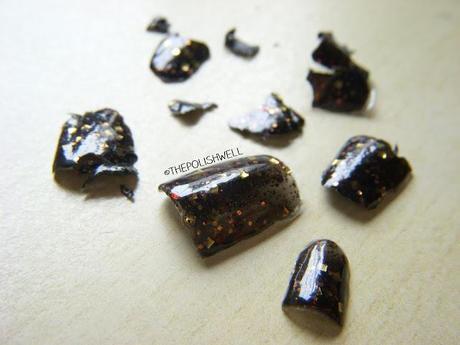 No more scrubbing or soaking the nails in foul smelling acetone - just pick and pop! I don't know about you but that's almost as fun and therapeutic as popping bubble wraps for me. :L
This magical concoction can be found in your regular
beauty supply
 craft or stationery stores - goes by the name of... 'PVA glue'.
Yup, that's right! It's our good ol' craft glue! How did anyone even think of using glue? *impressed*
I bought the Innisfree peel-off base coat before I knew about its true identity but you can always buy the cheaper alternative and pour it into empty polish bottles for easy application. Don't believe me? You can check out this neat post on Lab Muffin.
It feels a little strange knowing that you are deliberately smearing glue over your nails but other than that, it applies smoothly like our regular base coats. If you find your glue a little too thick, you can always thin it with
water
.
Some application tips for best results:
You don't have to paint a thick coat of glue. It pops nicely even when you use a thin layer of glue.
Ensure that you cover every inch of the nail that you intend to polish on.
Wrap your tips (i.e. paint the free-edge of the nail) with the glue - especially if you have a habit of wrapping your tips with the polish.
This will ensure that any polish at the tips will come off easily too when you peel off the polish.
Let the glue dry completely until it doesn't even feel sticky when you touch it.
Depending on how much glue you use, it can actually turn transparent fairly quickly. But I will advise you to wait for a little while more until it is no longer tacky to touch. I've made the mistake of applying my polish immediately when it turned transparent and the polish refused to budge when I picked, scratched and cursed at it the next day.
Do not wash your hands when you don't have polish over the glue - even when the glue has dried completely.
Because it is water-based, it will turn wet and sticky again upon contact with water.
I'm not too sure about this but I haven't been able to get the polish to pop off in one perfect piece when I paint a base color before topping it with glitters. Yes, it peels off fairly easily too but it tends to crack or break into little pieces (see picture above). Not a huge issue but I like it when the glitters come off nicely in one piece - looks like one of those fake nails. I'm weird, I know.
Someone once asked me: foil removal or PVA glue? After trying it out a few times, I have to say I prefer using PVA glue. Even though I have to wait approximately 10 minutes for it to dry before I can paint my nails, time passes quickly when I check my mail or scroll through the blog posts on my google reader. It is not much longer than the time I take for foil removal - cutting aluminum foils, cutting cotton pads, wetting each pad with acetone, wrapping my nails one by one and soaking my nails in harsh acetone for another 5 minutes or so (I stare into space because I can't work the trackpad on my com or phone with my fingers all wrapped up). And, because I'm weird, I like picking at the polish and popping them off my nails! :$ There is not as much satisfaction when I just pull the foil off my nails if you know what I mean. 
There is one downside to using PVA though. Amanda from
Pretty Girl Science
has pointed out that it does not prevent staining! So I will definitely recommend the usual base coat + foil if you suspect the glitter polish might stain your nails. 
What about you? What do you think of PVA glue? Have you tried it before?
xoxo,mich