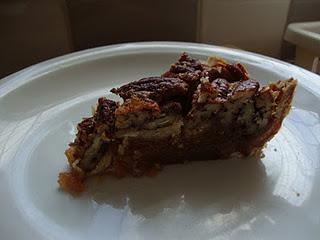 Happy Thanksgiving too all our American friends!
And to celebrate from over here I had a go at a Pecan Pie from an American recipe. This recipe for Pecan Pie was actually given to us along with some other American favourites by our friend, Bonnie, who we met on our travels to Canada. I'd wanted to try making Pumpkin Pie in time for Thanksgiving, but it seems that many recipes call for canned pumpkin, and by the time I'd found one for fresh pumpkin there were no more pumpkins available in the shops. It seems they magically disappear from the supermarkets as soon as Halloween is over!Looking up a bit of info about traditional Thanksgiving menus it seems that Pecan Pie can feature, but as a less obvious choice than Pumpkin Pie. So thought this was the ideal time to try out the recipe.
I'd also cut a couple of corners, and took this opportunity to try the newly discovered Dietary Specials ready made frozen shortcrust pastry.
The pastry itself seemed to work well, as expected was rather crumbly - but normal shortcrust is. Obviously the convenience of the pastry is fantastic, but at the price of £2.50 for 2x 200g amounts I might continue to make my own pastry unless I'm in a rush.
Back to the Pecan Pie. The recipe below is taken from Betty Crocker's cookbook 1989, via Bonnie Safyurtlu of California. And we've attempted to translate the quantities and ingredients to British equivalents.
The recipe didn't indicate whether the pastry should be baked blind or not. Bonnie had sent us through the recipe for the pastry too, but it didn't say there either. So I opted not to. It would have actually benefited from baking first as the pastry at the bottom didn't seem to cook too well. Also, we don't have a 9-inch tin, so it all went in a slightly smaller one. This meant that the nuts floated to the top for the mixture and the pie was deeper than it should be. Overall the pie was very very nice indeed and I will certainly do it again, next time probably after investing in a larger pie plate.
Pastry for a 9-inch one-crust pie
2/3 cup (150g) sugar
1/3 (75g) cup margarine or butter, melted
1 cup (340g) corn syrup (golden syrup)
1/4 teaspoon salt
3 eggs
1 cup pecan halves or broken pieces (we used slightly more - 100g)
1. Heat oven to 375F (190C).
2. Prepare pastry.
3. Beat sugar, margarine, corn syrup, salt and eggs with a hand beater.
4. Stir in the pecans
5. Pour into pastry-lined pie plate.
6. Bake until set. 40-50 mins. Refrigerate until chilled, at least 2 hours.