Parathas-the popular Indian unleavened flat bread varieties make a filling,healthy n tasty lunch/dinner.Made with whole wheat flour and stuffing of our choice,they can be a powder house of protein,vitamin and for sure an attractive fun food for kids.Contrary to the common belief making a perfect stuffed paratha is not a difficult task,all it calls for is a little practice and patience.Looks like I have caught the knack of rolling and stuffing parathas,my recent experiments have been successful :)I find myself making parathas often for dinner these days.One more advantage of parathas is that, as they are already a bit heavy and spicy there is no need for a special gravy as a side dish.Just some raita/curd and nice pickle and it makes a whole meal.Lat week I tried out paneer paratha-one of my favorites and we enjoyed it hot with colorful raita.A very comforting dinner indeed.Here you go with the recipe.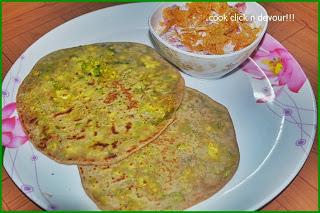 Paneer paratha recipe
Star ingredients:paneer,whole wheat flour
Time:10 minutes+30 minutes+20 minutes
Yield:6
Ingredients:
Dough:
1 1/4cups (heaped) whole wheat flour
3 tablespoon curd
1/2 cup water
2 teaspoons oil
SaltStuffing
11/4 cup whole wheat flour
3/4 cup crumbled paneer
1/2 cup fresh/frozen peas
2 green chillies
A small piece of ginger grated
1/2 teaspoon turmeric powder
1 teaspoon garam masala
1 teaspoon chilli powder
Few cilantro leaves
Method:
Dough
Mix all the ingredients for dough except water and rub with your fingers.Once the mixture resembles dough,slowly add water and knead to a uniform dough.Once the mixture comes
together,start kneading,knead for at least 7-10 minutes to form a smooth elastic dough.The dough should be soft,firm and smooth.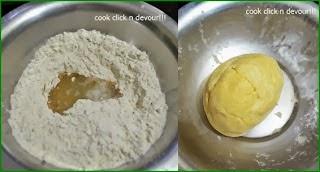 Stuffing:
Boil peas until soft and mushy.Keep paneer in boiling water for 15 minutes,drain the water and crumble as fine as possible.Remove as much water as possible while crumbling the panner.Mix all the ingredients mentioned for stuffing and mis well with hands.DO NOT add water.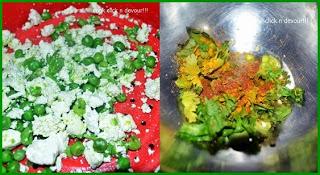 Making parathas
1.Pinch a big lemon sized portion of dough and place on floured surface.Take a portion of filling little smaller than the dough
2.Roll the dough into a small thick circle and place the stuffing ball in the center.Close the stuffing from all the sides and make a smooth ball.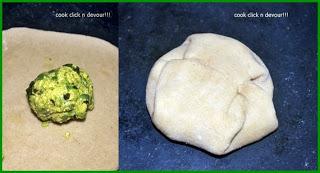 3.Next slowly roll into a circle of 1/4 inch thickness.Do not apply pressure while rolling and always roll outwards.Dust the surface and rolling pin whenever needed.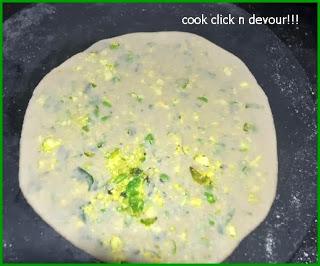 4.Heat a cast iron tava and fry the paratha from both sides with butter.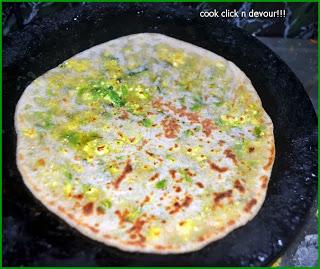 5.Serve hot with pickle,raita.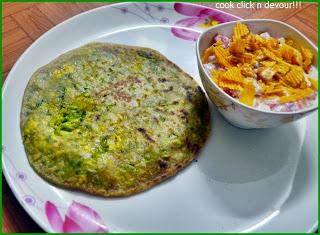 Notes:
1.You can make this either with peas alone or just paneer.
2.Add very thinly sliced onions to the stuffing for a variation in taste
3.A pinch of amchoor powder can be added to the stuffing
4.Make sure to drain as much water as possible from paneer while crumbling.