A cold snap has jeopardized my basil plants from my veggie garden this year. This is how I take care of that. I planted several basil plants in my garden this year. They have faired better than some of my other vegetables.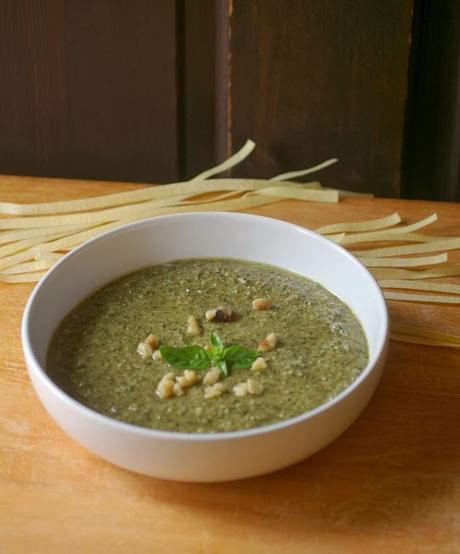 I went on the hunt for pine nuts, but couldn't find any in the grocery stores. To be honest I only went to two places, Pine Nuts must be a seasonal thing. Peanuts are sold year round here in Coastal Virginia. Suffolk is one of the biggest peanut producing areas in the United States. I tried my hand at peanuts and boy did that work out. Honestly, I think I like it much better than Pine Nuts.
Perhaps I should start from the beginning........
My vegetable garden is finally winding down. Its a lot cooler here in coastal Virginia. Instead of the oppressively 100 degrees of August, we are getting some 60-70 degrees along with some 80 degree days. Only in Virginia can you feel all three seasons in one day lol. My three basil plants don't care for temps below 80. In fact they thrive on temps in the 90s. So I pulled them to make room for my fall and winter planting and make a bunch of pesto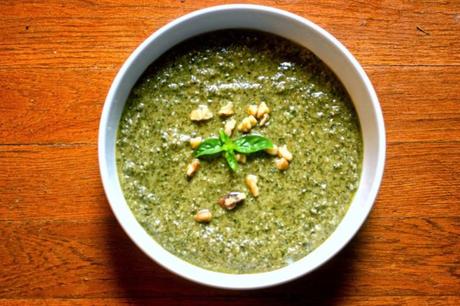 I mean a bunch of pesto, because I have a bunch of basil.
I was looking for a way to use up all that basil. I will freeze a bunch of it and just add the cheese after I have defrosted it. I went to the dollar store and bought several ice cube trays and filled them with the mixture minus the cheese and once they were fully frozen I removed them from the tray and placed them in a zip lock bag.
So now when I make soups and such, all I need to do is defrost and add some cheese. I hope you all try to do this. It is good to have some extra flavor stashed in your freezer. Just make sure you mark it, when you freeze it. Once it is frozen you may not know what it its.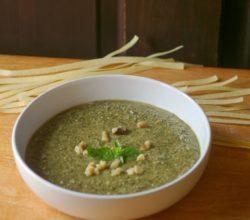 Peanut Pesto
Ingredients:
1/4 cup peanuts
2 cups basil leaves
1/2 cup olive oil
2 cloves garlic
1/2 cup Parmesan cheese
1 teaspoon salt
1/2 teaspoon black pepper
Directions:
Preheat oven to 250 degrees
Place peanuts on a baking sheet and bake for 10 minutes.
Combine the basil and peanuts in a food processor. Pulse until combined. Add garlic and cheese and pulse until it is incorporated.
Through the feed tube add the olive oil in a steady stream until combined. Stop to scrape the sides and add salt and pepper. Pulse a few more times.
You can store the pesto in an air tight container in the refrigerator for up to a week.
Peace be with you,
Veronica