Chateau Selah is located in Blountville, Tennessee.  You may not be able to touch the clouds from there, but you certainly are a lot closer to them.  The views are spectacular!  This is what makes it a popular choice for weddings.   The green, purple, and blue color palette of nature was the perfect companion to James and Metha's peacock wedding theme.  I posted a teaser a while back, but here are more photos by Life Winds Photography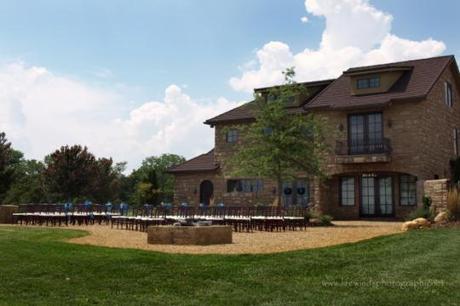 Inside the four-story French Chateau, is a quaint, stone, spiral staircase.  Isn't Metha's dress amazing?  There is a wine cellar beneath the staircase.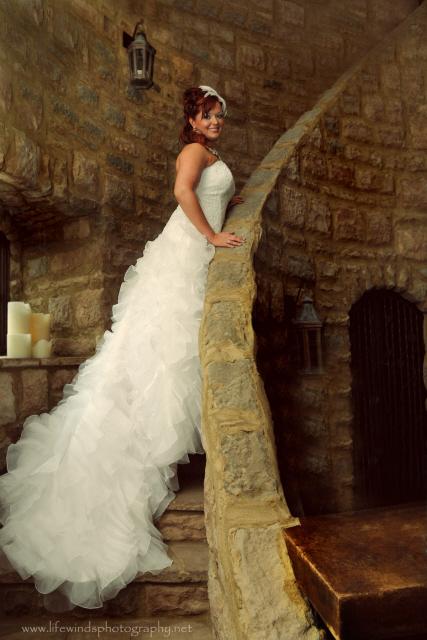 I totally loved working on this wedding.  Green Cymbidium Orchids, Blue Bombay Dendrobium Orchids, Fiddlehead Fern Curls, and Peacock feathers made vibrant display in the bouquets.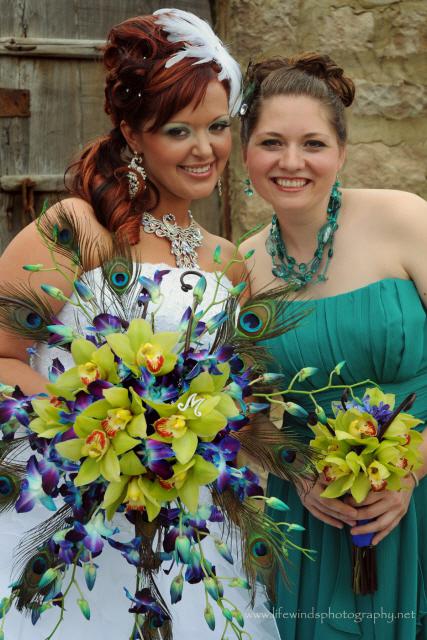 Isn't this flower girl's dress adorable?  It's all just a little bit exotic, don't you think?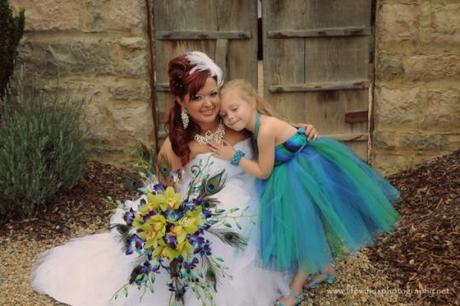 Check out this spectacular view of the mountains.  There are several fire pits on the property.  You can see one in the picture below, in the right hand corner.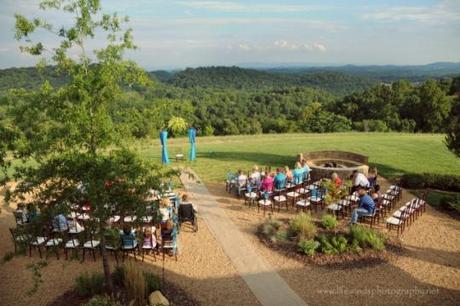 How about this special guest?  He looks like he belongs there.  It looks real, but it is metal.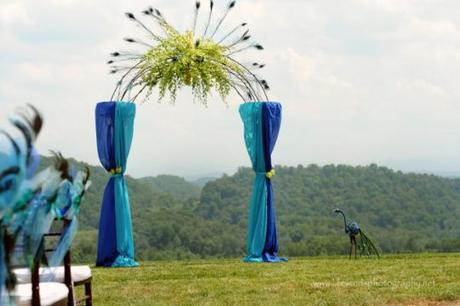 The fascinators from the  Royal Wedding inspired these one-of-a-kind aisle markers.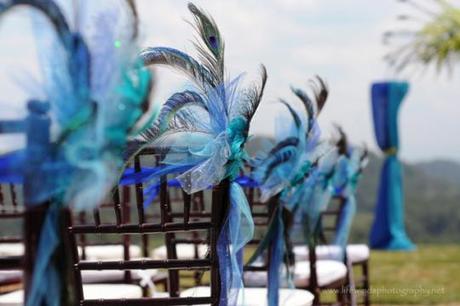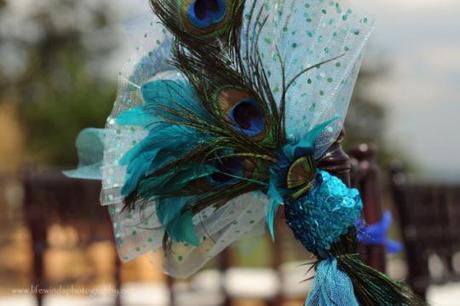 The bridesmaids wore different colors.  The groomsmen's ties matched their dresses.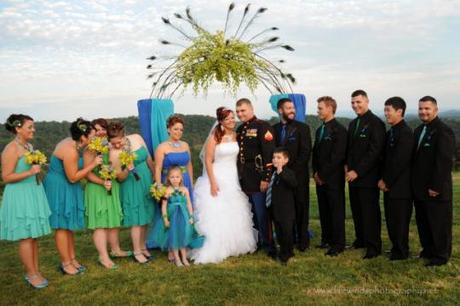 How about these shoes!  Can you pick a favorite?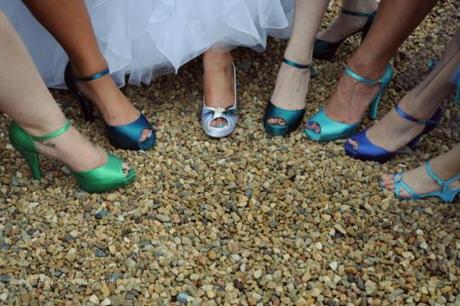 The theme was carried forward to the reception.  These shimmer linens complimented the centerpieces.  Isn't that Fiddlehead Fern Curl fun?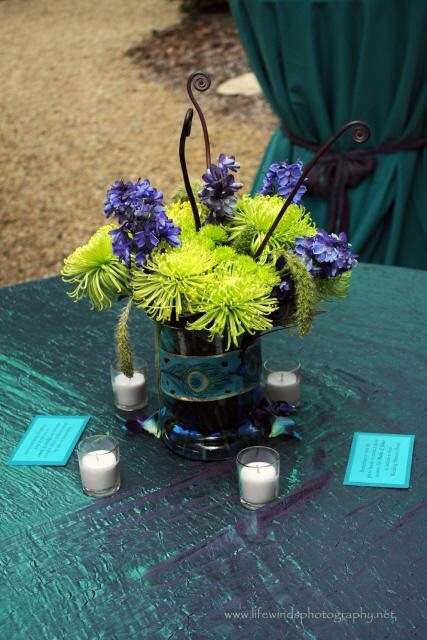 Pier 1 had all the decorative accessories we needed to complete the look.  I couldn't pass up the large vases.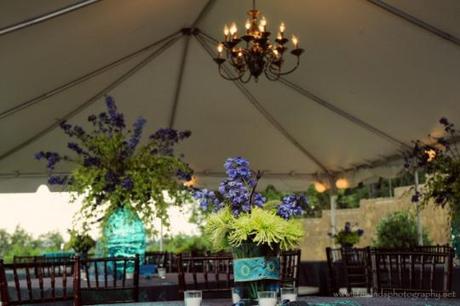 I found these little mirrors there, too.  We used these on the cocktail tables.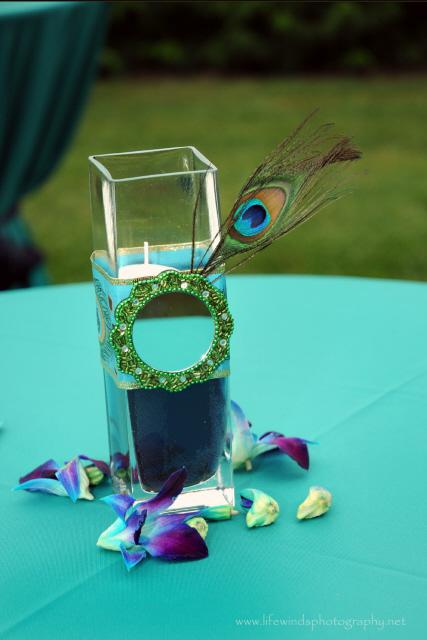 I found the placemats, napkin rings, and votive holders for the bride and groom's sweetheart table at Pier 1 also.
I might have gone a little crazy at Pier 1.  I went there to purchase this peacock feather wreath that Metha wanted.  I came out with a whole lot more than that!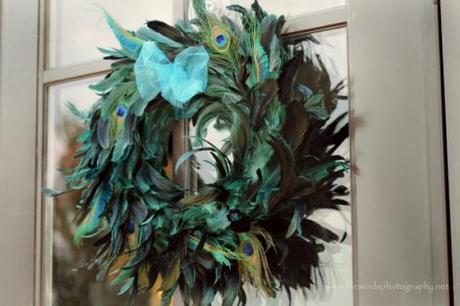 Chateau Selah is as breathtaking inside as it is outside.  It boasts a catering kitchen, complete with a dumb-waiter.  There are two bedrooms on the second floor for the attendants and bride to get dressed, and a media room for the groom and groomsmen.  The outdoor kitchen and fireplace are a bonus, and are fabulous for a rehearsal dinner cookout.  The biggest surprise is the honeymoon suite on the fourth floor.  If it were rated, I would give it ten stars!  The walk-in shower could fit the entire bridal party…not that you would want to do that! HA!  Seriously, it is absolutely beyond your wildest imagination.  There are balconies, a soaking tub, a huge bed with a ruffled comforter, and a flat screen TV.  It has all the amenities you could ask for.  If you are looking for that extraordinary venue, this place has it all.  Contact them at 423.323.3157, or [email protected].
To see more pictures from this and other of our weddings, visit our website at Pamela's Event Design.
Thanks for stopping by.  Please take time to leave a comment.  I read all of them, and I would like to get to know you.
Pam Archer, President
Pamela's Event Design
423-323-1413
Advertisement