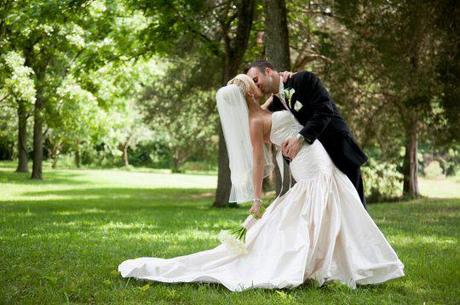 Photography by Rainey Day Photography
I see a new trend emerging. More couples are getting married and having their wedding at a later date.  In some cases, the groom is going off to war. In other cases, it isn't a convenient time to have a wedding, or the expense of it isn't feasible at the time. More are practicing abstinence and purity until marriage. These couples don't want to live together before marriage, so they get married and have the wedding later. The desire to make a life-long commitment is taking center stage, placing the wedding lower on the priority list.  This speaks volumes to me about the current generation.  More often than not, today's brides and grooms are victims of divorce. They know firsthand the pain that comes with that, so they aren't entering the marriage with the flip attitude that "If it doesn't work out, we can always get a divorce." I applaud them for recognizing that marriage is sacred and not to be taken lightly.
Ben and Jen got married a year prior to their wedding.  Ben had taken a job out-of-state, and Jen wanted to go with him. They didn't feel it was right for them to live together, so they got married. During the following year, Jen planned her dream wedding.  It turned out beautifully, don't you think?  I loved the bridesmaids' dresses. They had a southern belle look to them. The girls carried a simple bouquet of white calla lilies. Jen's bouquet was very elegant, just like Jen! She carried a classic bouquet of white calla lilies with added jeweled adornment on the stems.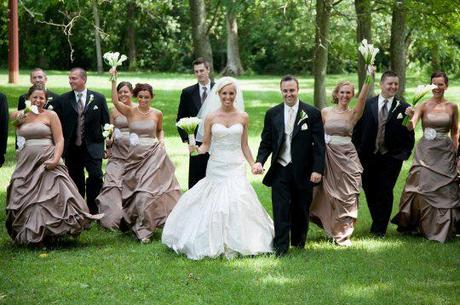 We lined the aisle with submerged calla lilies.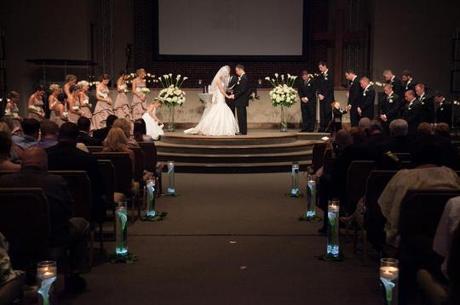 The submerged calla lilies and the arrangement of hydrangea, roses, and Callas set an elegant backdrop for the ceremony.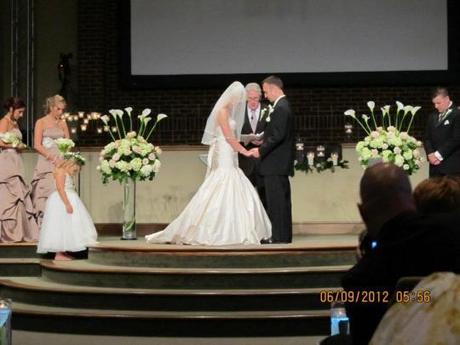 Guests released monogrammed balloons for a fun send-off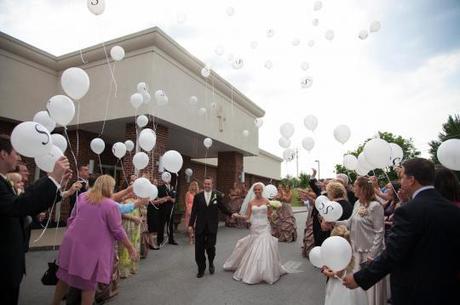 Isn't this a beautiful photo by  Rainey Day Photography?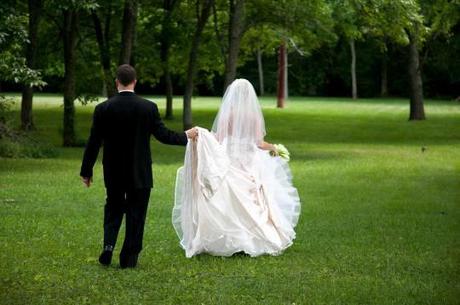 About her wedding, Jen wrote, "Where do I start?  So much to thank you for! My ceremony and reception were both absolutely breathtaking, perfect in every way! I absolutely loved it. I received so many compliments that it was the most beautiful wedding that they'd ever seen! More importantly, it was the most beautiful wedding I'd ever seen! And, I've been to a lot. You left me with wanting absolutely nothing more.  Thank you, Pam! you brought my vision to life! God Bless!"
What more can a designer hope for than to make a bride's dream come true?
See more photos of Jen and Ben's wedding at Pamela's Event Design.
Thank you for stopping by.  Please leave comments. I would like to know who is reading my blog.
Warm wishes!
Pam Archer, President
Pamela's Exclusive Floral & Event Design