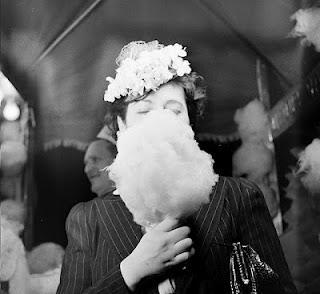 Unknown Woman Eating Cotton Candy
Courtesy of La boite verte
I've never been the kind of gal who can eat whatever she wants, never exercise and still maintain a great figure. Oh you ladies who can do that. How I adore thee. Unfortunately, thanks to my Armenian genes and growing up in a culture that is inseparable from food, I'm convinced that on some days, I put on weight just by breathing air. Thankfully, there are plenty of women out there who feel the same way and deal with feelings of guilt and food. Growing up, I never really liked sweet things, never got hysterical over chocolate or pastries or candy. But everything  changed in my late 20's. Suddenly, I craved sweets - dark chocolate, cakes, ice cream, pastries, and puddings. Who can blame me for the sudden sweet tooth. All those years spent with the world's best bakers and cooks - my mom, grandmother, aunts, great aunts. My mom's profiteroles are legendary - see here.  Thankfully, I didn't inherit the baking genes and consider myself a mediocre (at best) baker. I bake rarely to avoid wasting eggs, butter, and nuts - expensive ingredients. PS: I did try a chocolate flan recipe recently and it turned out beautifully. I'll be making it again for a party next week so be on the look out. Anyway, where am I going with all this sweet talk? I have come up with healthier ways to indulge my sweet tooth and today's recipe is a new foray into the wonderful world of tofu. Don't get turned off. This recipe may surprise you.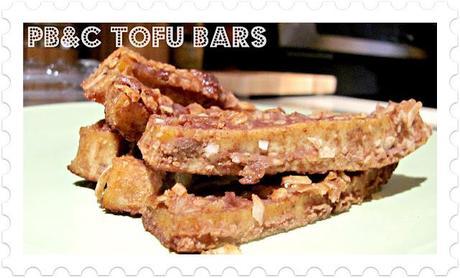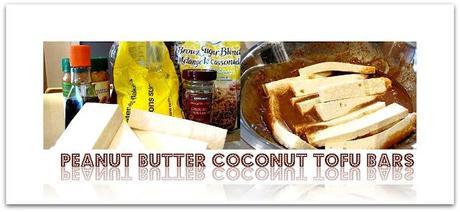 Unfortunately, I scanned the WWW and could not find a single recipe that is similar to mine. This may be an indication of two things. 
A) I'm a mad genius in the kitchen. 
Or 
B) I've done something terrible. 
Either way, here is what I did. First, you need tofu. Solid and extra-firm. Cut lengthwise as thick as your fingers or perhaps a little thicker (some people have very small hands). In a bowl, mix together some agave syrup, unsweetened coarsely shredded coconut, peanut butter, spoonful of cinnamon, dash of brown sugar, and a splash of vanilla. Experiment until you reach a desired level of sweetness or coconuttiness (that's what I was after). I diluted the combo with a little warm water to make it easier for the tofu to marinate. Mix until well coated and set it in the fridge to rest & relax. After about 30 minutes, I PAM'd a baking sheet and baked in the oven for 20 minutes. The key is to turn off the oven and let the tofu harden for another 10 minutes. Take out; wait for the bars to cool.  What you get is chewy and gooey, big coconut and cinnamon flavours. I can't tell you the calorie count but it has got to be better than most of the options out there. For the afternoon sweet craving, I think it works perfectly especially with a cup of coffee along side. My food-discriminating cousin R. said and I quote, "these are unexpectedly delicious." Thanks cuz! This recipe could be an option for mama's with kiddies. Feeding them tofu covered in sugar. They won't know the difference. Hope this test inspires you to try something different. What's the worst that can happen right?
If you haven't made any desserts with tofu, check out
this
,
this
and this. They all look super yummy. Have a super duper weekend!