Around this time every month I start imagining (and sometimes daydream) about what beauty items I'm going to spend my hard earned money on. So with payday approaching (just not fast enough) I thought I'd do a post about what's on my shopping list this month...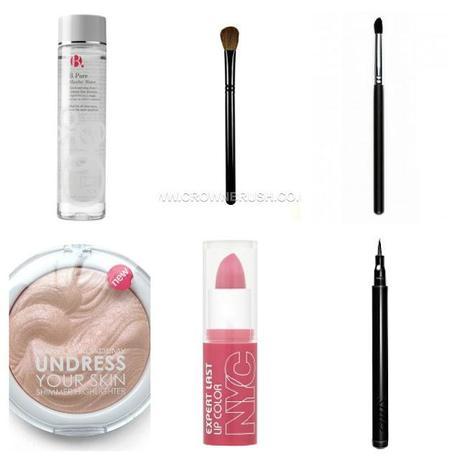 1. B. Pure Micellar Water - £4.99 - Superdrug
I hadn't heard a lot about much skincare from Superdrug as I usually buy mine from where I work or Boots. So when I read about the whole B. range from London Beauty Queen (you can read her post about it here) I was very intrigued to see what they had to offer. She also mentioned about their Pure Micellar Water and it's basically a cheaper version of the Bioderma one at a fraction of the price so can't wait to get my hands on this.
2. Crown Brush BK13 Blending Fluff Brush - £2.69 - Crownbrush.co.uk
I think I heard about Crown Brushes through Youtube after watching several haul videos from Imats. But never really thought they were easily available to purchase until I heard people talking about them on Twitter so I had a look and I ideally would love them all but there are a few that I need in my brush collection which I own nothing like them. This blending fluff brush is one of them. They have blending brushes and crease brushes separately which I never thought there was two different kinds. And for £2.69 I don't think you can go wrong!

3. Crown Brush C411 Pointed Blending Brush - £5.09 - Crownbrush.co.uk

I thought I would add in this brush to my shopping list as I know MAC do a similar one (286 Duo Fibre Tapered Blending Brush) which I have always wanted but could never part with £22 to own one. So what's better then trying the same kind of brush out but at a fraction of the price.

4. MUA Undress Your Skin Highlighting Powder - £2.00 - Muastore.co.uk or Superdrug

It's been all over the bloggersphere about the new MUA Undress range and quite equally I think among us all I want to try it all. And it's easily achieved because of MUA's amazing prices for their products. At an introductory price of £2 (only to go up by £1 after) where can you go wrong? I'm always on the hunt for a new product to give me that perfect glow and this could be it. You can apply as a highlight to your cheekbones etc or add on top of blusher or bronzer to add a subtle glow (just don't go crazy or your end up looking like a disco ball.)

5. NYC Expert Last Lip in 'Flirty' - £1.99 - Superdrug

I think I saw these on someones blog of a haul they had recently done and their review of them were nothing but praise. Yes I love MAC, Chanel and Laura Mercier lippies but sometimes my bank balance just won't allow me to buy all the lovely colours I want. So when a good high street makeup brand releases a new line of lipsticks I can't help myself but be curious. I love this shade and as much as I love a bright, bold lip I am a true pink girl at heart.

6. Sleek Flick It Eyeliner - £5.99 - Superdrug

When it comes to eyeliner I've stayed faithful to my good old MAC Blacktrack fluidline. But I find it near impossible to create the perfect flick with it and got told a liquid liner is sometimes easier. Fast forward a couple of weeks and I came across Sophies review of the Sleek liquid pen liner (See her post here). Like me Sophie said how she finds eyeliner hard but since using these it has now become a daily occurance for her to wear the cat eye look with ease. Can't wait to get my hands on them!

What do you guys want when you get paid?

Follow me on Instagram: Cosmeticgirladele

Follow me on Twitter: @adele_marie90