Well today's post is featuring one vegetable that is detested by most :)Yes the bitter guard which is has a great reputation :)For all the years I have been cooking will you believe if I say this is the first time I cooked with it?It was all for my husband,he picked up few bitter guards and I had to come with a recipe.It was sitting in the fridge for more than a week and I found a recipe using this vegetable when I was flipping through Femina.I started reading reluctantly but found the recipe really interesting.I tried it out and m husband liked it a lot.I tasted it too and I found the other ingredients really tasty more than the bitter guard.For those who love bitter guard this will be a sure treat.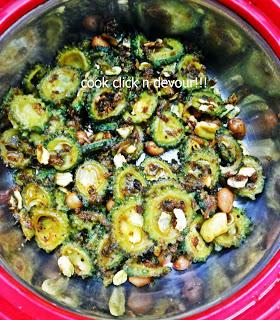 Sweet and spicy bitter guard stir fry
Star ingredients: Bitter guard
Time:20 minutes
Serves 3
Ingredients:
10-12 small or 1 long bitter guard
1 table spoon peanuts
10-12 broken cashew nuts
1 teaspoon sugar
1 teaspoon coriander powder
1 teaspoon chilli powder
1/2 teaspoon amchur powder(dry mango)
1/2 teaspoon turmeric powder
1/2 teaspoon asafoetida
1 teaspoon cumin seeds
oil
Salt
Method:
1.Chop bitter guard into thin circles and mix with little salt.Keep aside for 10 minutes.
2.Heat oil in a kadai and temper with cumin,asafoetida and turmeric powder.Add peanuts and cashew nuts ad fry till golden.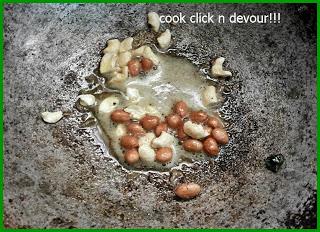 3.Add the chopped bitter guard and mix well.Add sugar,coriander powder and chilli powder.Mix well and saute in medium low till bitter guard pieces turn crisp.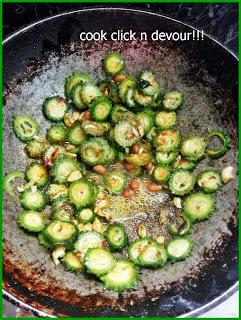 4.Add amchur mix well and serve.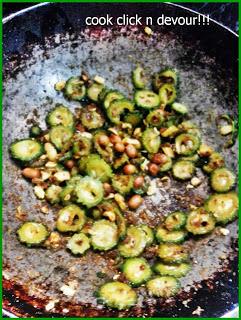 Notes:
1.After mixing with salt bitter guard will leave out water.You can choose to squeeze out that water but some nutrients will also be lost.
2.You can ad jaggery instead of sugar.
3.You can also add 1 teaspoon tamrind juice while cooking instead of amchur.