Today is trade deadline day, and for many teams it's a critical point in their season, and may or may not have an impact on the next seasons to come.
The LA Lakers currently have 4-5 people signed (depending on whether Nick Young decides to exercise the 'Player' clause in his contract, in which the decision of whether he stays or not is completely up to him) for next season. This means that if the Lakers don't trade the little assets that they have right now for something of greater value to them, they will have nothing besides their four contractually obligated players, 1st round draft pick and oodles of cap space come July.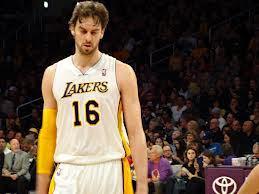 Pau Gasol's departure would give the Lakers a better shot at a higher draft pick in July
One thing to keep in mind is that the Lakers aren't rebuilding for next season, they're planning to be contenders again, at the earliest in the 2015-2016 season. They would need the signatures of a few possible free agents; some interested players might be: Kyrie Irving whose unrest in Cleveland is indisputable, and Kevin Love, who according to close sources has expressed interest for LA.
This article isn't about how the Lakers will become championship contender again, it's about what the Lakers have to get done today to be able to fulfill that goal in the next few years.
The only real trade value that the Lakers currently have is Pau Gasol. Gasol is a quality player, who even this season, is showing his value. Pau's 20 million dollar contract does however limit his next possible destinations. The traits of a team that could use his services would be a very young group, that a) has enough cap space to incorporate Pau as a rental, and b) a team that could use Pau's experience as guidance. The team would have to be making a run at a conference title as well as a team that believes, with the cost of Pau and whatever they trade would help them achieve that goal. Now who might that be?
The Phoenix Sun's are a perfect match. They've played surprisingly well, and with the help of Gasol, they would have a great chance in April. The only problem is that the Lakers want a second first round draft pick in return, something that most teams would never give up. This has deterred the few teams that would even consider trading for Pau.
So what do the Lakers do now? If the Lakers can't find a team willing to give up a draft pick or a young player that might have a shot at making a name for himself in LA, then the Lakers will just have to keep Gasol. This would be a waste for both parties, Gasol should be playing for a contender, and the Lakers should be playing for the ping pong balls.