Thenga manga pattani sundal :)Well mine turns out to be thenga manga carrot pattani sundal :)I have heard this loud singing by vendors N number of times in Marina beach,but never had the courage of eating this out there.This sundal is one of the signature identity of Marina beach (well all the other beaches in Chennai too).People happily much this sundal filled in a paper bag and spend time either watching the serenity of sea or engage themselves in a joyful conversation with friends/family/loved ones.Now for those who doesn't know what I meant in the first line,thenga,mango pattani sundal is a savory snack where boiled dried peas is tempered and topped with raw mango and coconut.A very delicious and healthy snack it is and very rich source of protein for growing children.As sundal is a part of our navrathri offering I made this sundal yesterday. we loved it,try for yourself and let me know.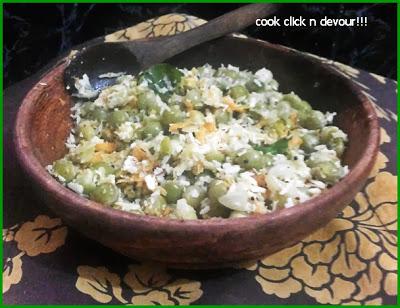 Pattani sundal
Star ingredient:Dried green peas
Time:20 minutes(Apart from soaking time)
Serves:3
Ingredients:
1 1/2 cups dried green peas
1 carrot grated
1/2 mango peeled and grated
2 tablespoons shredded coconut
2 green chillies
1 dried red chilli
1/2 teaspoon asafoetida
1/2 teaspoon mustard seeds
1 teaspoon urad dal
10-12 curry leaves
Oil to temper
Method:
1.Soak the dried green peas for6-8 hours.Drain the water and pressure cook for up to 2 whistles.The peas should cook but not mushy.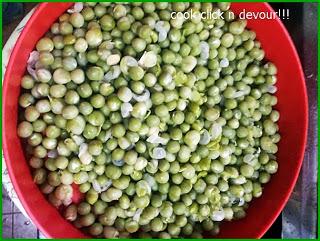 2.Heat oil in a kadai and temper with mustard,urad dal,red,green chillies,asafoetida,curry leaves.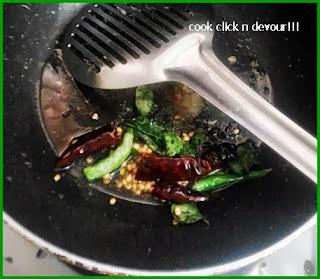 3.Add the cooked green peas,salt and mix well.Saute for 5-7 minutes.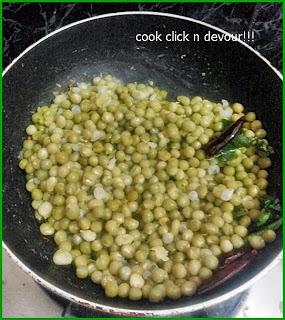 4.Add mango and carrot and saute for 2 minutes.Remove from flame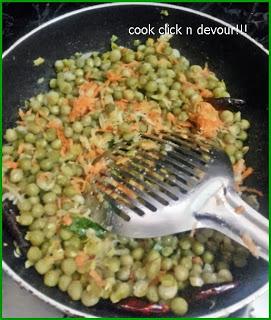 5.Top with shredded coconuts and serve at once.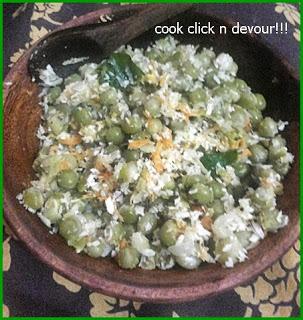 Notes:
1.Fresh peas should not be used for this recipe.Dried green peas available in groceries should be used.
2.Serve at once after mixing coconut else the dish will turn soggy.If serving later,mix the vegetable and coconut at the time of serving.
3.I usually do not use ginger for this as the taste will be over powering.