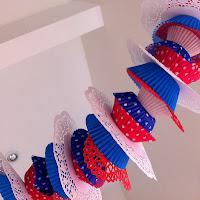 It's no secret that the blog world is full of red, white and blue crafts at the moment, largely due to the fact that the 4
th
of July is coming up soon... and fair enough too... its an important date deserving celebration – in the United States.  But.  There's another reason that plenty of other places can be borrowing the ideas they see – it's called the Olympics.  
You see, lots of other countries around the world will be marching into the sporting arena under the colours of red, white and blue, and if your house or your school is trying to get into
the Olympics
mood, and your country (Australia, UK, France, amongst others) happens to have a flag in red, white and blue, then get colour coordinated pre-Olympics!
Of course, all my beloved readers and friends from the states (as well as those who come from countries whose flags are red and white or blue and white), can also be tweaking the July 4
th
craft ideas to make patriotic decorations for their living rooms this Olympics.
On my facebook page I try to put daily links to craft projects I find on other sites, (as well as thank yous, occasional video clips and other miscellaneous things to inspire crafty mums).  A couple of days ago I linked to a pastel coloured cupcake garland; it's an oldy but a goody.  For my garland today, I went bright and bold, and I had a great time threading red, white and blue cupcake liners and doilies.  I deliberately chose liners that were different sizes and shades, and the doilies I used were round white, and love-heart shaped red ones (if you click on the photo it will enlarge). 
I could have been quite random about how I threaded the garland, but I decided to make a pattern, and laid the items on the floor in a red-white-blue sequence that tried to space the doilies out from each other.  Once I was happy with the sequence I threaded them with a needle and thread and hung them up.
The garland would also be perfect for a Rodeo Party (the doily lace looks like a bandanna pattern to me), Circus Party decoration, or of course a 4
th
of July celebration!
Go on – get patriotic and celebrate the colours of your flag with cupcake liners.