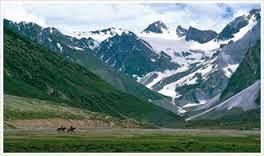 Welcome to Patnitop, the land of fresh air and enormous mountains, dazzling river and towering trees. Patnitop
in the state of Jammu and Kashmir is a renowned hill top location which not only replete the travelers with its breathtaking natural beauty but as well offer them the thrill and joy of adventure sports in ample. Summing up the essence of this place is the long nature walk which provides the travelers endless exploration away from the maddening crowd of the city life.
If you have a dream of long walk in undiscovered forests listening to the melodious birds singing to glory and hearing to the rustling of the leaves, here is where you can realize it. With the numerous options of adventure such as skiing, trekking, paragliding, high flying and not to forget golfing, in this elegant hill town can be experienced at its best, offering you your adrenalin rush bang on. Travelers also explore Sudh Mahadev and Gauri Kund which are famous as the places of home to Lord Shiva and Goddesses Parvati. The picturesque Mansar Lake is another allure to explore which is situated amidst the thick woods and is absolutely overwhelming. Sanasar and Madhatop are two other breathtaking places here and which are covered by thick carpet of snow during the winters. The drive from Jammu to Patnitop in itself is an awe-inspiring experience as it offers such beauteous scenery that it is tough to question yourself or anyone why on earth Jammu and Kashmir is called as 'Heaven on Earth'.Located on the highest point of the Jammu Srinagar highway at a height of 6640 feet above the main seal level Patnitop is blessed with abundant natural beauty and charm. Unlike the other hill stations of the country which is discovered by the British or developed a century or more ago, this hill town is without a Mall and cantonment. This 20th century hill town is beautifully bounded by the thick forests of pine and cedar. It is relatively located in the low lying of Jammu District, it is one of the few areas which receives snow fall in winter. You can visit this beautiful hill resort of Patnitop any time during the year as the summers are mild and winter is cool and inviting. However summer is considered to be the best time to visit for adventure sports like trekking and paragliding and if you are looking for snowboard joys then December to March is the time. Daily bus services from Jammu to Batote or Baderwah starts from bus stand and adjacent stops on highway. Tourist can hire an auto from Jammu or railway station for the day or night trip to Patnitop. Thus we can say it is an ideal place to feel the charismatic beauty of the nature, enjoying time with fun and frolic with families and dear ones.