Hey people
This has been in my drafts since too long. Few months back I unexpectedly visited a Patanjali store. Though I was looking for their body scrub I never really tried to get one. I found this store when I was out with mamma in my area(yay I have this store just a mile away from my home). I have picked up quite a lot of stuff from the store except the body scrub aka ubtan.
This post details the teeny weeny soap nah the body cleanser. Let me dig into the details and my experience with the product.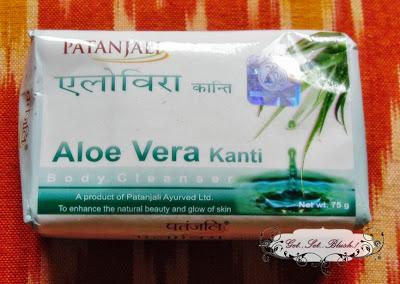 The product comes in a regular paper cover which is in white Base and mint green letters. The packaging is cheap. But you know, the paper is organic and eco friendly than the usual plastic covers.

The back side of the cover.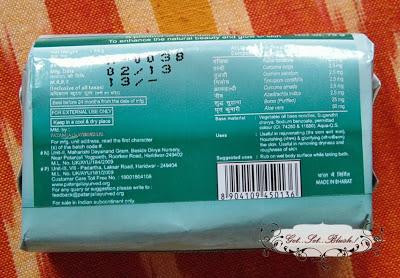 Price and Quantity:
13 INR for 75gms
What the website says about this product:
Patanjali Kanti Alovera Body Soap is useful in rejuvenating, nourishing and glorifying the skin. It is also useful in removing dryness and roughness of skin.
Ingredients:
Aloe vera, neem, ama hladi, giloy, tulsi, haldi, manjistha, amla, gaumutra
I feel really nice when I get to read all these old ayurvedic names in the ingredient list :D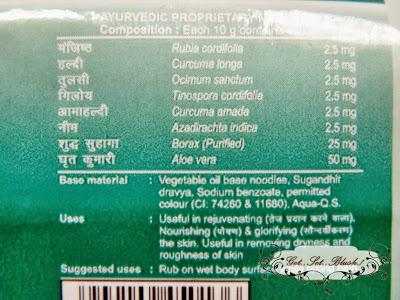 Base Material:
soap noodle base, borox, color cos oil green, perfume aloevera Q.S
The best thing about the Patanjali products is that they mention the raw materials used and most of them are chemical free and organic. The soaps in particular are handmade.
The Soap:
The soap comes in a oval shape and it is not transparent. This soap is more like any other budget soaps.
Directions:
Rub on wet body surface while taking bath and rinse off.
I have very tiny palms and this soap exactly fits in it :P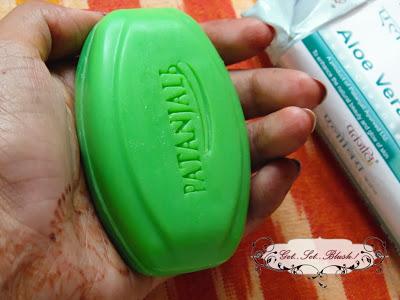 My Experience with the product:
Few days ago months ago, I was having bad time with my skin and hair. I was finding my skin getting dry so easily even after applying loads of moisturiser. I was experiencing hair fall and oily scalp. I noticed that this condition worsen when I was under stress. I had to work late and had very little sleep and no time for proper oil massage or a good CTM routine. I had to satisfy myself with use of some random shampoo/conditioner and some face wash.
One day I wanted to check my skin care routine and realised that the chemical things are not doing any good to me but just making things worse for me. That is when I decided to opt for all the natural organic stuff. I wanted an sls free shampoo, perfume free soap and chemical free routine. I have picked up my daily essentials from Patanjali store and I must tell you that they didn't disappointed me.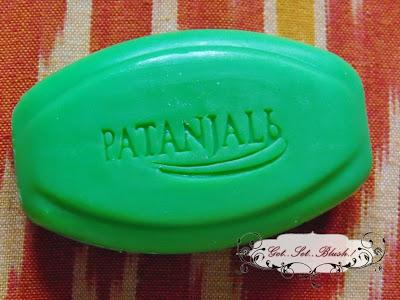 Coming to this soap,
This is just a very normal soap which would lather nicely. But it doesn't make the skin dry instead it moisturises my skin well. I liked the smell also. It is not the usual aloe vera smell(which is yuck) but has some floral fragrance but it is vague. It goes off once you are done with the bathing. This particular soap is the travel size bar which is just 75gms. I have bought it to try and I quite liked it. It is natural. Organic. and Handmade. I would prefer this soap but in a bigger size to any other artificial soap.
Pros:
1. Handmade
2. Chemical Free
3. Natural,Organic
4. Makes skin clean without making it dry.
5. Claims are true.
Cons:
May be availability.
Final Words:
Patanjali has some great products that would work for anybody. This is a safe product to start the use of the brand with. No side effects and itching lol
Go check the multani mitti soap which claim to get rid of the tan.
Email This
BlogThis!
Share to Twitter
Share to Facebook