<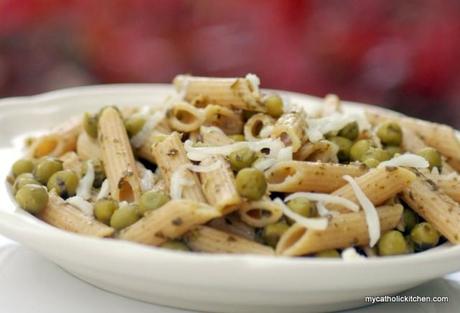 The first Friday of every month I blog about Barefoot Contessa (Ina Garten).  I have a great group of bloggers who do the same thing. Scroll down and you will see a list of blogs participating.
This month we have Soup Salads and Sides.
I decided to make Pasta, Pesto and Peas. Even though I am not a fan of green peas I love this dish. It is great to make and take to a potluck or picnic you plan to attend.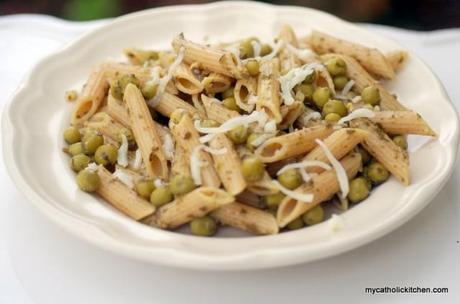 Print Recipe
Pasta Pesto and Peas
Ingredients:
1 pound penne pasta
1/4 cup olive oil
1 1/2 cup bottled pesto
1 10 oz package of frozen spinach thawed
3 tablespoons lemon juice
1 1/4 cups mayo
1/2 cup Parmesan
1/2 cup frozen peas
3/4 teaspoon salt
3/4 teaspoon pepper
Directions:
Cook the pasta according to the package directions. Drain and toss in a large bowl. Add the olive oil to coat the pasta.
In your food processor puree the pesto, spinach and lemon juice. Add the mayo and puree again.
Add the pesto mixture to the cooled pasta. Add the Parmesan cheese, peas, salt and pepper. Mix well, season to taste and serve at room temperature.
Stop in this Friday or beyond  and see what all of our fine writers are cooking up.  All writers will not participate every month, but check out the blogs anyway.  If you'd like to participate on a monthly basis, email Alyce at afmorgan53@yahoo.com.   If you'd like to join in occasionally, just follow the prompt for the "linky" or blog hop and add your post – Ina Garten recipes only, please.
Peace be with you,
Veronica
!– startLinkyTools script –>
Google+

Veronica Gantley (My Catholic Kitchen)