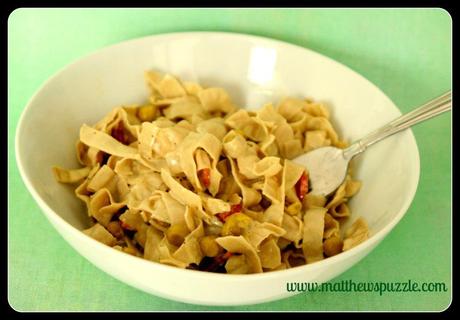 My husband's family is Italian and I am always looking for real pasta recipes that can be made gluten free. Here is one of my favorite, Pasta la Carbonara. We use gluten free mung bean fettuccine pasta, beautiful natural bacon, peas and a light egg yoke, cheese and cream sauce. Enjoy!
Pasta la Carbonara Recipe Print
Recipe type:
Entree
Author:
Matthew's Puzzle
Prep time:
5 mins
Cook time:
20 mins
Total time:
25 mins
Serves:
4
Easy Gluten Free Pasta dish featuring bacon, peas and cheese.
Ingredients
1 lb thick cut bacon, chopped into large pieces
1 lb mung bean pasta
4 egg yokes
1/2 cup half and half or cream
salt (to taste)
pepper (to taste)
1 1/4 cup grated Parmesan cheese
1 1/2 cup peas, frozen
Instructions
In a frying pan, cook bacon pieces until they are crisp, set aside.
While bacon is frying, in a large pot bring water to a boil, and cook pasta according to directions.
In a small sauce pan over low heat, combine egg yokes, half and half, salt, pepper and cheese.
Using a flexible spatula constantly stir the mixture so that the egg does not burn, about 5 minutes or until slightly thickened and heated through.
Drain pasta.
Mix pasta, bacon, peas and egg mixture.
Serve immediately.
WordPress Recipe Plugin and Microformatting by

EasyRecipe
2.2.8