pasta butter masala - easy pasta recipe in Indian style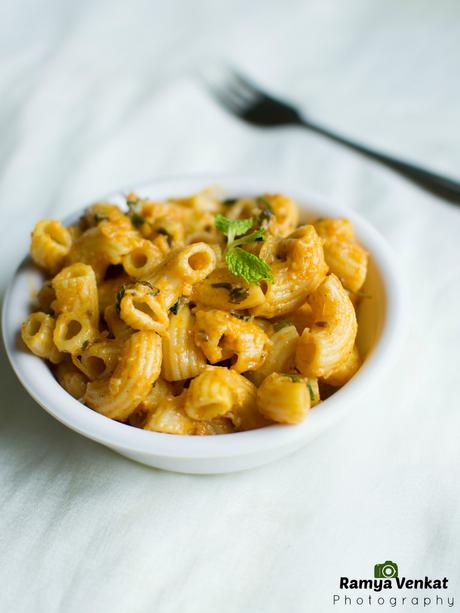 pasta butter masala - pasta cooked in butter masala base gravy and this is low fat version.paneer butter masala is the favorite paneer recipe and you can check the recipe which is low fat version which i already posted here.
I got this recipe from sis blog,there she posted this recipe and i thought this is the wonderful idea to make a pasta recipe without making the same tomato based sauce.I made the recipe with some alterations to my taste and am sure this will taste the same as original one but little spicier side.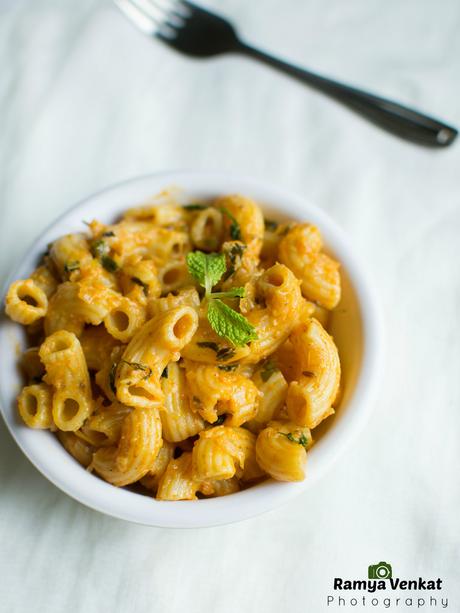 On a rainy day,i want something apart from usual lunch and i want simple and also a spicy light meal.So i searched the pantry and i saw a packet full of elbow pasta and searched for the recipe.Suddenly i thought a recipe which i saw from her blog with butter masala base.Without any second thought,i started to prepare the recipe but made in different method.I dont want the aroma of ginger garlic paste in the recipe,so i saute it along with tomato and onion and then made the puree from that.I did not added any whole spices in the recipe,just added garam masala for making it spicy and aromatic.I added kashmiri red chilli powder for less heat in the recipe.You can use regular red chilli powder in the recipe if you want more spiciness.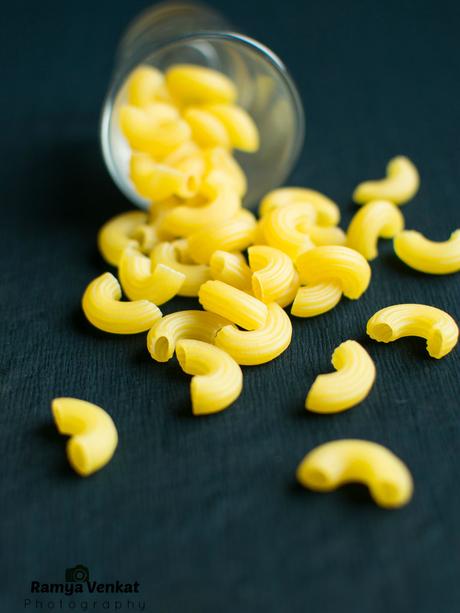 For making the sauce creamier,i added whole milk and i proceeded the recipe as it is.The sauce must not be thick ,otherwise it will not coat the entire quantity of pasta which we prepared.this recipe is a must try recipe those who want an alternate for usual pasta recipe.I served this recipe as a evening snack for V as this is spicy and like finger food.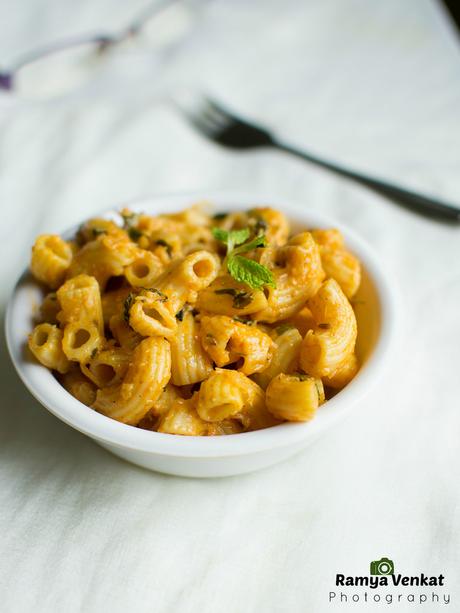 I already posted paneer pasta which has pav bhaji masala in it and made a very quick version with scrambled paneer there.I recommend that recipe too and it is very spicy at its end and it is perfect for monsoon and winter.Another pasta recipe which is Indian style masala pasta which is made with or without veggies.The recipe is made like we make poriyal or sabzi with little pinch of garam masala in it.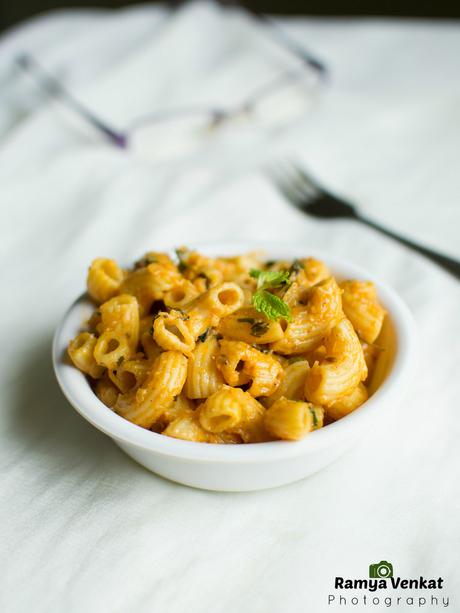 pasta butter masala recipe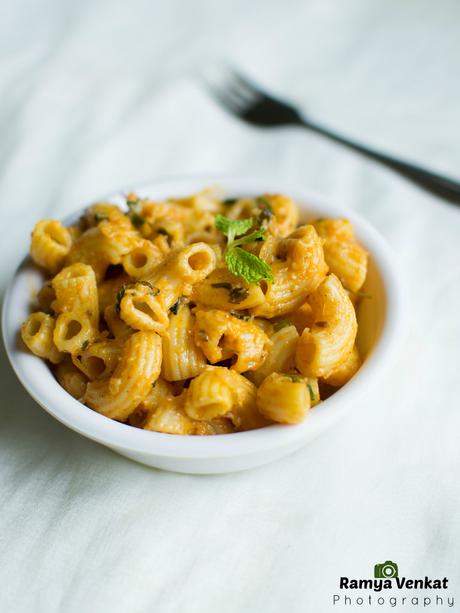 pasta tossed in butter masala sauce in Indian style

pasta,any type - 1 cup
Onion - 2 roughly chopped
tomato - 1 roughly chopped
ginger - 1/4 inch piece
garlic - 2 cloves
kashmiri red chilli powder - 1 teaspoon
garam masala - 1/2 teaspoon
cumin powder - 1 teaspoon
kasuri methi/dry fenugreek leaves - 1 teaspoon
coriander leaves - for garnishing
whole milk - as needed for making sauce
salt - to taste
oil - as needed
Instructions
Take the pasta and add it in boiling water with 1/4 teaspoon of salt and few drops of oil.Cook till it get done and drain the water.

Meanwhile heat 2 teaspoons of oil in a kadai and add roughly chopped onion and tomato along with ginger and garlic to it and saute it until half done.
Cool it and make a fine paste from the mixture using the blender.
Now heat 3 teaspoons of oil in same kadai, add the paste and salt and saute it till oil separates.
Once the oil separates,add the red chilli powder,garam masala and cumin powder to it and saute it till it came like a thick paste.
Now lower the flame and add milk and simultaneously mix it quickly to avoid curdling of milk.
Keep on stirring and add more milk if needed.Make sure you make a quite a thin sauce,so that after it get boiled,it came to a correct consistency.
Cover it with the lid and boil for a minute and you can see a thick sauce there.Add kasuri methi and mix it.
Now add the cooked pasta and give a gentle toss or mix without breaking the pasta.
Add finely chopped coriander leaves and serve piping hot.