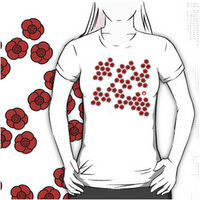 It's no secret that in the first week of each month Partycraft Secrets sends out a subscription newsletter with detailed craft tutorials, additional tips and tricks, as well as highlights of blog posts, links to other sites, and free printables.  Each month, one member of the Royal Family (as I like to call the Loyal Followers) consistently sends me a thank you.  Her name is Susan.  Well Susan.  In honor of all your nice emails, I've named a t-shirt after you!  It uses one of the Poppy Pearl printpapers that went out with the last newsletter and I've called it "Poppies for Susan."
Red Bubble is a site which allows artists to upload their graphic designs onto cards, posters and tshirts, and then make them available for the world to buy.  I've thought long and hard about it, and I've decided, what better way to get in the party mood, than to match the designs you're using with your partycraft printpaper invitations, pennant-buntings and food flags and put them on your t-shirt!
If you pop across to the
Red Bubble Partycraft
section you'll find tshirt and card designs from each of the party party themes to choose from (Mermaid, Pirate, Jungle, Circus, Oriental, Fairy, Princess... and so on.)
As well as 'girlie' tshirts the designs also come in guys tops, hoodies, kids tshirts, stickers and best of all, the cutest little baby onesies!
I've only just finished uploading most of the products, so I'm yet to buy a tshirt myself, but from others who have purchased from the site, the tshirts and print quality are both meant to be excellent.
Don't forget - when you do buy a tshirt, from here, or anywhere - make it YOU-nique; add buttons, bows, use permanent markers or puffy-paint... if you're gonna wear it... wear it your way!