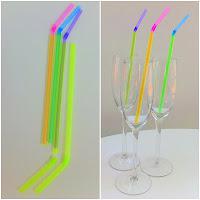 It's no secret that drinks taste better through a straw.  Ask your children, and if they're asleep, then go make yourself a cocktail and see if it's not true!  But seriously.  Party drinks in particular, for young and old, simply look yummier when dressed up with a bendy straw.  They're affordable, come in plenty of colours, so there's no excuse not to make them a table accessory at your next party... but why stop at one-coloured straws?  Of course you can buy stripey straws, and they are sublime, no question, but what about a straw that's one color below and another color on top, and not just because it's submerged in a pink fizzy drink?
When my girls were threading short sections of straws onto strings to make necklaces for a craft project in the Summer EBook, I noticed that when a wide straw slipped over a thinner straw you got a pretty colour-changing moment.  So, a blue and a pink straw for example combined to make a lovely lavender shade, and a yellow and a blue gave you this almost physcoldelic lime color.  Wow!  Whodathunkit?  Well, it's science, I know... but from a being crafty perspective I thought; 'to the bench-top baby' and off I went; and then magic happenend.
Sadly, the photo doesn't do it justice, but this is really, a super-fast, super-attractive way to make your party you-nique. 
All you have to do is:
Buy two packets of straws (yes you will have to look slightly nutty as you hold the packets up in the supermarket to assess the straws' circumfirences, or just do as I did, and accept that they are so cheap, that it's not the end of the world to have a spare pack hanging around if you get it wrong – but the reality is, if you look before you buy in a couple of stores you'll soon see there is a diffrenece.)  The straws can be 'solid' non-see-through colours (I tried it and it works), but this project looks especially pretty when both sets of straws are see-through shades so you get the colour-changing effect.
Push one straw inside the other (if they are both bendy straws, then push them from opposite directions – if you're having a Construction Party or a Nautical-themed Party you might want to keep them in their 'S' shape so they look like plumbing / periscopes!)
Snip the end off one of the straws so that the straws fit the depth of your cups (decide which color you want to be submerged in the drinks, and which will be visible – in my example I imagined a garden party with pastel hues showing, and say a lemonade drink that would mean the 'lemony' colours of the straws would show through the drink.)
Ta-da!
Now I took a photo of the straws in champagne glasses so you could see the finished product, but of course they'll work just as well in stripey paper cups for a circus party, bright plastic cups for a summer party, in drinks for children or adults... really, two-tone straws are just a snip away!