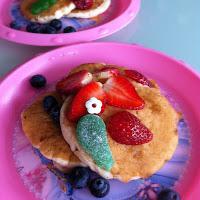 It's no secret that little people need big boosts of energy from time to time, and that they also love helping you make the food they eat... the big problem is that when they're tired and hungry is not always the best time to let them help out.  Unless of course you go the party-pancake option!
Here's how to make a great party-snack:
Place ready made (or bought) pikelets or mini-pancakes on a platter.
Place chopped-strawberries and blueberries in small bowls.
Hand each child a plate and a flower-shaped candy.
Tell them to assemble their creation and help them top with syrup.
Stand back and watch them eat!
The great thing about this quick treat is that it's sweet without being too bad for them to eat, and you can also moderate the volume of their intake based on their age.  Best of all, it's fast so you don't get any sad faces or temper tantrums while someones missing a turn stirring, sifting or waiting for something to 'ding' in the oven.
Sometimes being crafty with your family is about finding fun and healthy shortcuts that still look classy!
Enjoy.
Linda.