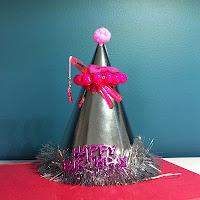 It's no secret that the humble party hat is a much overlooked piece of party apparel.  Often considered cheap and dodgy, I have a bit of a love of the store bough party hat... but with a twist.  On it's own, the party hat is indeed a little 'common,' but with the slightest of effort, you can transform these hats into little themed wonders.
Here's just a few things you can do to dress up a dress-up hat;
Easter - add a foam egg to the top of each hat, green raffia to the base and flower and bunny stickers to finish.
Halloween - add dried flowers, plastic spiders, or cobwebs to turn them into witches' hats.
Christmas - add plenty of tinsel to the base, a Christmas star on top, and consider some baubles hanging down from the sides.
Country / Outback - add wine-corks on strings around the edge to create a fly-free swagman in party mode.
Circus - go the pompom on top!  Alternatively, cut short strips of tissue paper and make your own 'fluff' to go on top.
Ballet - push feathers into the top of the hats for a Moulon Rouge feel, and add beads around the base.
Princess - slide some long ribbons into the hole at the top of the hat and tape them in place inside, add fake flowers and gem stickers to the front and sides.
Jungle - add a set of printpaper eyes to the back of the hat so that everyone has eyes on the back of their head for a bit of a laugh.
Quirky - tape the string of a helium balloon to the top of the hat.
Printpapery - cut out any of the designs in your printpaper package and stick them onto the party hats; as shown in the party hat picture in the Princess Party Planning Package... phew - that's a lot of p's... no wonder there's a tale about the princess and the pea!... which, as an aside, always worried me as a bedtime story; the last thing any mom wants to think about just before going to sleep is finding pee in the bed!
So then; everything and anything can be added to party hats - tape the embellishments down if you want the hats to be wearable, or simply use the hats as table setting props, and slip bracelets, beads, rings, or other fun accessories and gifts onto the hat.